Libya: UK Tunisia flights help over 3,000 refugees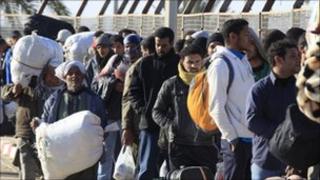 Some 3,135 Egyptians fleeing violence in Libya have now been flown back to Cairo by a UK airlift operation.
Three UK-chartered planes have made 12 flights from Djerba airport in Tunisia to Cairo. British flights hope to rescue a total of 6,000 Egyptians.
International Development Secretary Andrew Mitchell, who is in Tunisia, said "progress was being made" in the humanitarian effort on the ground.
He said Britain was also sending two logistics experts to Djerba.
The International Organisation for Migration officials said almost 200,000 people - many of them migrant workers - have fled Libya, into Egypt, Tunisia and Niger since the uprising against Col Muammar Gaddafi.
Around 80,000 are thought to have entered Tunisia, with thousands still stranded on the Libyan side of the border.
'Fluid' situation
Speaking during a visit to the Ras Ajdir transit camp, Mr Mitchell said: "The flow of refugees across the border came down a great deal [on Thursday], probably from something like 10,000 to 2,000.
"The tents have been set up and progress is being made. I just toured the hospital facilities here which have been set up by the Tunisian authorities. They are extraordinarily good."
But he said the situation was "extraordinarily fluid" and he had no idea how many more refugees may be on their way.
Satellite pictures suggested more refugees were based about 15km back from the border, he said.
He added: "In terms of what is happening inside Libya, no-one really here is sure.
"But that is why the prime minister must surely have been absolutely right to say that all options must be put on a table, we don't know how that situation is going to develop and therefore we must prepare for every eventuality."
DfID has also delivered 36,000 blankets and 3000 tents to Tunisia. A second flight on Friday will deliver 2,000 blankets and more 1,100 tents - which will provide shelter for 5,500 people.
Prime Minister David Cameron announced the evacuation flights in the House of Commons on Wednesday. He said Department for International Development (DfID) teams had been sent to the border area.
No-fly zone
The international evacuation effort came after United Nations Secretary General Ban Ki-moon appealed for an international airlift to prevent a "humanitarian crisis" in makeshift camps where refugees are housed.
France, Italy and Spain are also helping with the airlift, while Egypt and Tunisia have also provided extra flights to transport people.
Libyan leader Col Muammar Gaddafi has said on TV he will "fight until the last man and woman" and has warned that thousands of Libyans will die if Western forces intervene.
Meanwhile, rebels in eastern Libya have said they will not negotiate unless Col Gaddafi quits and goes into exile. The National Libyan Council in the city of Benghazi also called for foreign intervention to stop government air strikes on the rebels.
Many UK charities have warned of a "potential humanitarian crisis".
Children in danger
David Bull, executive director of Unicef UK - which has launched a crisis appeal to raise £4.5m for women and children in Libya, Tunisia and Egypt - said the charity was expecting the number of refugees to climb into the hundreds of thousands if the unrest continued.
Save the Children warned that more than a million children in western Libya were in serious danger as government forces battled with protesters for control of key towns and cities.
The World Food Programme also announced a $38.7m (£23.7m) emergency aid programme for 2.7m people caught up in the Libyan crisis.
Meanwhile, Downing Street has insisted that the Cabinet was "absolutely" in agreement over government policy on Libya, and the UK was not alone in looking at the possibility of a no-fly zone.
The prime minister's spokesman said the focus was on diplomatic and humanitarian efforts and the issue of the no-fly zone was part of "contingency planning".
The International Criminal Court has said it will investigate Col Gaddafi and his sons for crimes against humanity.