CCTV camera estimates halved by police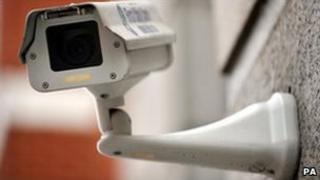 There are fewer than half the number of CCTV cameras in the UK than previously thought, new police estimates suggest.
The Association of Chief Police Officers (Acpo) says there are closer to 1.85 million cameras than the widely-used estimate of 4.2 million.
It says Britons are caught on camera 70 times a day on average, rather than up to 300 times as previously stated.
Acpo said the earlier figures were based on a road in a busy shopping area and a fictional tour of CCTV hot-spots.
Acpo's deputy chief constable Graeme Gerrard said: "Eight years after the 4.2 million figure was first published, we now have research that indicates that the figure is less than half this guesstimate.
Code of conduct
"We also know that unless you make a particular point of visiting as many CCTV hotspot areas as you can, you are unlikely to be captured on CCTV 300 times a day."
He said most of the 70 or so times people are caught on CCTV would be at the workplace or "fleeting glimpses" in shops.
The Home Office has revealed plans for a code of conduct to better regulate the spread of CCTV, which it fears could go unchecked without it.
It follows a controversial scheme in the West Midlands last year which saw police install more than 200 cameras in two largely Muslim areas - for which they have since apologised.
Cameras with face recognition technology and powerful zooms were coming closer to being an "established part of the CCTV landscape", the Home Office acknowledged.