Humanist religious question census campaign launched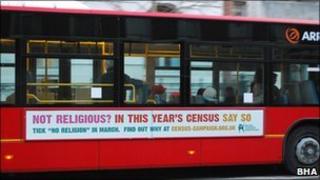 Campaigners are urging members of the public who are not religious to say so in the national census.
For only the second time, the 10-yearly survey will include an optional question about religious belief.
Some secular groups, including the British Humanist Association, say the question is skewed and may overstate the extent of religious affiliation.
The campaign slogan was changed to drop the words "for God's sake" after advice from advertising regulators.
Poster campaign
The secular groups want people who are not religious to tick the box saying "No religion" on the census.
The British Humanist Association (BHA) has unveiled a series of posters on buses and billboards across the country.
Using the slogan "Not religious? In this year's census, say so", they hope to persuade people to think carefully about which option to tick on the census form, which is being delivered to every household in the country this month.
The question about religious belief allows respondents to choose from several possible answers, including "No religion", "Christian", or "Hindu".
But BHA chief executive Andrew Copson believes the wording of the question in the last census resulted in 72% of people being classed as Christians - a figure which is much higher than other surveys.
"Instead of asking, 'Do you have a religion and if so, what is it?', the question asks 'What is your religion?', a closed question that funnels people into giving a religious response, even if they don't go to a church or a mosque, even if they don't believe in God."
A similar sentiment was expressed by Prof Richard Dawkins who told the BBC more precise questions need to be asked "if you want to use information for political purposes".
He said: "If you really, really want to know whether people are religious in the true sense - the sense that everybody understands about religion - ask a specific question: Do you believe Muhammad rode on a winged horse? - something like that."
Mr Copson also says that the placing of the religious question close to other questions about ethnicity encourages white British householders - even those who never go to church - to tick "Christian" because they believe it is part of their overall cultural identity.
The BHA warns that getting the figures wrong may have a direct impact on civil society.
Consultation process
"If the number of religious people is artificially inflated in the census, then public policy in matters of religion and belief will unduly favour religious lobbies and discriminate against people who do not live their lives under religion," Mr Copson says.
The Office for National Statistics (ONS), which is responsible for the census, says that the wording of the 2001 question on religion was decided after consultations with a wide range of stakeholders.
The same wording has been kept for this year's survey in order to effectively map any changes.
The think tank Theos, which undertakes research into religious matters, believes that the ONS never set out to measure how many people regularly attend organised worship.
Paul Bickley, one of the researchers at Theos, says the census information on religion is not used in the far-reaching manner that the BHA believes, and that the 72% figure for Christians can be qualified and challenged by other data.
'Cultural affiliation'
"All data has to be interpreted; the facts never speak for themselves. I don't think it has been used to underpin controversial policies. The power of this statistic is that it is illustrative. It's not as if Tony Blair saw the 2001 census results and thought, 'Hang on, let's start opening more faith schools.'"
Mr Bickley says the census question is right to measure cultural affiliation, because that is how many people actively choose to identify themselves, even if they do not regularly practise a faith.
This in turn presents a different point of view to the argument that the UK is becoming a more secular society.
"You can't say, 'If you don't practise, you're really a humanist, please tick the 'No religion' box'. I think that's to go too far," Mr Bickley says.
The BHA's new poster campaign has already suffered from one setback.
The original campaign slogan was refused by the company CBS Outdoors, which owns much of the advertising space in Britain's railway stations, following advice from industry body the Committee of Advertising Practice.
The slogan - "If you're not religious, for God's sake say so" - was judged to contravene codes designed to prevent offence to religious people.
CBS Outdoors has maintained its ban for the updated slogan too - but it will appear on the sides of more than 200 buses across the country.