Anglicans who chose to 'go home' to Rome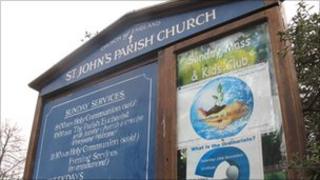 "I always thought, 'The Roman Catholic Church - that is the Church.' So when this opportunity arose, after a couple of weeks of thinking very deeply about it, I thought, 'Yes, yes, I'll go home.'"
So says Ann Vaughan, one of a group of 40 from the parish of St John the Baptist in Sevenoaks, Kent, who are leaving the Church of England to join the Roman Catholic Ordinariate for ex-Anglicans.
The group, headed by their vicar, Father Ivan Aquilina, plan to celebrate the Eucharist in the Anglican Church for the last time on Sunday.
After that, they will attend the town's Roman Catholic church, St Thomas of Canterbury.
Shortly before Easter (24 April), they will receive Communion as Roman Catholics for the first time. Soon after, Easter Fr Aquilina and his curate, Father James Bradley, expect to be ordained as Catholic deacons, with Fr Aquilina hoping to be ordained as a priest in June.
The Ordinariate for England and Wales is the first in the world set up under a Vatican decree providing for groups who disapprove of tendencies within the worldwide Anglican church - notably the appointment of women and gay people as bishops.
Ann Vaughan
"When I came to St John's I thought, 'This is for me,' says Mrs Vaughan. "I love the solemnity, the ritual, the theatricality - but that was leading me on to be prayerful."
She is unhappy with the direction of the wider Anglican church: "I deplore abortion and euthanasia, I'm pro-life and I think the Anglican church can be very wishy-washy about this."
On women priests and bishops, she says: "Jesus did not choose women to be Apostles but he gave great respect and importance to women.
"I think we just have to accept that men and women are equal but complementary... we women have other ways to contribute to our Lord."
Father Ivan Aquilina
"I was very moved when we had the meetings here - the spirit of peace and joy and openness," says Fr Aquilina of the coming together of those in the parish interested in the Ordinariate.
He says the problems of the Church of England are not just about women priests and bishops but go deeper.
"Under the bondage of the whims of the General Synod, the Church of England is diluting the Gospel of Christ and espousing the spirit of this passing age," he has written.
The Ordinariate group in Sevenoaks will be a distinct part of the Roman Catholic community - but not a "ghetto" or an "elite", he says.
Much of how the group will develop will depend on the views of its own members, he insists - Ordinariate rules require each group to have its own pastoral council.
Fr Aquilina, who is married with two teenage children, has until 31 July to vacate the vicarage at St John's. He will be paid by the Church of England until 17 April.
In the long term, the Vatican's rules lay down that the Ordinariate and Church authorities must provide adequate remuneration for the clergy.
John Moore
Mr Moore, a parishioner for 25 years, says changes he finds unacceptable are gathering pace in the Anglican church.
"The slippery slope is getting steeper and steeper all the time... I think it's a process which is far too developed now to stop its momentum."
Of Anglicans who support changes he opposes, he says: "One retains warmth of feeling towards fellow Christians but I can't escape the conclusion that in those respects, they are mistaken. I don't think that's a reason for enmity, though."
Of the move to Rome, he says "It's far more comfortable doing this in a group."
But he believes there may come a point where the Ordinariate group says, "Maybe we are reaching the end of our useful life and we should just dissolve into the Roman Church."
"We go there retaining elements of Anglicanism but... you do risk being a sort of rump group, sustaining itself for the sake of sustaining itself."
Father James Bradley
The curate at St John's is unmarried and seeking ordination within the Ordinariate; the rules lay down that he must relinquish the right to marry in future.
"It's been a long decision - but I feel that more than anything else, I want to be a priest," Fr Bradley says. "And if that's what it takes, then that's what it takes."
He stresses that members of the Ordinariate will play a full part in the life of the Catholic Church.
"Just as the laity will be Catholics and can go to Mass in any Catholic church, so we will be Catholic priests, God willing, and will be able to celebrate Mass in any Catholic church."
Roman Catholic parish priest Father Richard Harvey
Father Harvey stresses that the Ordinariate movement is "all terribly brand new", and how it develops will be a matter of "learning by doing".
He welcomes the fact that Ordinariate group members in Sevenoaks are seeking close integration with the Roman Catholics.
"As far as I understand it, they don't want to be parallel and isolated. They want to be integrated and mutually supportive," he says.
Staying on: Jim Cheeseman
General Synod member and St John's parishioner Jim Cheeseman is one of those who has decided not to leave at present.
Of the Ordinariate move, he says: "A common response is that this is too soon, because we're half-way through a legislative process, the end of which we do not know."
But if the Church of England approves women bishops without adequate provision for those who cannot accept them, "All hell will be let loose." Some opponents will join the Roman Catholics direct, not bothering with the Ordinariate, he predicts.
Of Fr Aquilina and the others who have chosen the Ordinariate, he says "For them it is the right decision. It should be respected. They should be congratulated on their decision and I wish them all the best in the next stage of their pilgrimage."