Raf Typhoon: 'Bad planning' added billions to jet costs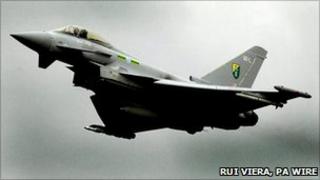 The RAF's Typhoon fighter jets have each cost 75% more than predicted, according to a spending watchdog.
The National Audit Office said the increase was because of bad planning and over-optimism at the Ministry of Defence.
The number of planes ordered has been reduced, but the bill for development and production has risen by 20% to £20.2bn.
The government says it has learned lessons and has improved its practices.
The UK originally ordered 232 Eurofighter Typhoons in the mid-1980s, but this was reduced to 160.
It has been suggested that RAF Typhoons based in Cyprus could be involved in policing any no-fly zone over Libya.
Deep-rooted problems
The National Audit Office (NAO) estimates that each individual aircraft is now 75% more expensive than originally anticipated.
It says the joint management deal with Germany, Italy and Spain led to problems obtaining spares, and meant the RAF had problems fully training pilots.
The head of the NAO, Amyas Morse, said there were still "difficult and deep-rooted problems" to be overcome by the MoD.
"Key investment decisions were taken on an over-optimistic basis," he said, "and the department did not predict the substantial rate at which costs would rise. None of this suggests good cost control, a key determinant of value for money."
The NAO report says Typhoons are performing well in air-to-air missions, but that work on adapting the jets for ground attack is unlikely to be complete until 2018.
Until the jet's full multi-role capability is achieved, it says, the MoD will not have secured value for money.
The Commons public accounts committee also said recently that the MoD had to address procurement delays and overspending.
Defence Equipment Minister Peter Luff said the MoD and the Eurofighter consortium had learned from past problems, and improvements had been made.
"The four partner nations are working hard together to ensure their project management continues to match the excellence of the Typhoon," he said.
"The defence secretary has announced reforms to prevent future delays and cost overruns in defence procurement, ensuring our armed forces are properly equipped and tax-payers get value for money."
Former Labour Chancellor Alistair Darling said there needed to be a "hell of a big improvement" in the Ministry of Defence procurement process.