London 2012 Olympic torch designers announced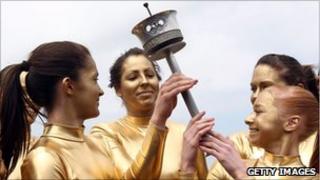 East London designers Edward Barber and Jay Osgerby will design the London 2012 Olympic Torch, it has been announced.
The studio will also create the celebration cauldrons to be used when the Torch Relay stops for lunchtime and evening celebrations, Locog said.
The Olympic Flame will arrive in the UK from Greece on Friday 18 May, 2012.
During the 70-day torch relay, 8,000 people will carry the torch en route to the Olympic stadium, where the cauldron will be lit on 27 July.
Barber and Osgerby, who began working together after meeting as students at the Royal College of Art, were awarded the Jerwood Applied Arts Prize in 2004 for their furniture and industrial design.
Their work is held in many permanent museum collections including the V&A in London and the Metropolitan Museum of Art, New York.
The pair won a competitive tender launched last year for the torch design role Olympics organisers, Locog said. They are also working on designs around the Paralympic torch relay.
The design for the torch is expected to be unveiled in June.
Their Shoreditch studio is less than four miles from the Olympic Stadium in Stratford. A spokeswoman said they were "thrilled to be involved creatively in such a major world event".
London 2012 chairman Sebastian Coe said: "The Olympic Flame will shine a light on inspiring people, places and 2012 Games projects and programmes right across the UK as communities begin their Olympic celebrations with the Torch Relay.
"Ninety-five per cent of the UK population will be within a one hour journey time of the Olympic Torch Relay and we are now developing the Torch which will be one of the key visual icons of the London Olympic Games.'
Design Council chief executive David Kester said: "Billions of eyes will be on the Olympic Flame in 2012. I am delighted that Edward Barber and Jay Osgerby have won this commission and wish them well as standard bearers for UK design."
The origins of the Olympic torch relay look back to ancient Greece, when messengers were sent out from Olympia to announce the competition dates and call for a halt to all combat operations during the Games.
The relay was revived for modern times in 1936, when a flame was carried through Europe from Greece to Germany ahead of the Berlin Games.
Since then, the design of the torch has changed with each Games, sometimes reflecting classical torches, at other times taking on a contemporary look.
For the modern Olympic Games, the flame is lit in Olympia from the sun's rays using a parabolic mirror and then taken on a relay around Greece.
At the end of the Greek relay in May 2012, the flame will travel to the UK for the start of the 70-day torch relay.