Supermarkets urged to keep alcohol separate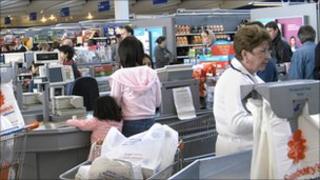 Alcohol should be kept away from food and soft drinks in supermarkets, according to a campaign group.
Alcohol Concern wants shops in England and Wales to keep beer and wine in a separate section.
It has found that big retailers place beer and wine near the doors and the tills, as well as on food aisles.
Industry groups say encouraging people to drink with food is responsible, as most people enjoy their alcohol that way.
But Alcohol Concern says drink should not be displayed so widely, and should not be alongside bread and cheese.
Its chief executive, Don Shenker, said: "It's now common practice to sell wine next to ready-meals, pushing the idea that a relaxing meal should be accompanied by an alcoholic drink.
"Such practices help fuel a drinking culture where one in four people in England are already drinking at levels that are harming their health."
Mr Shenker says supermarkets are "saturating" their aisles with alcohol.
Some of the samples identified by the group's research were:
Asda had bottles of wine at the fish, meat and deli counters and cans of cider next to the hot chicken counter
Morrisons had beer next to fruit and vegetables, and champagne next to the milk
Sainsbury's had wine next to soft drinks, bottles of spirits next to fruit and boxes of beer next to cheese
Tesco had bottles of spirits next to bread and tea, and cans of cider were found next to crisps
The research involved a single visit to a branch of each supermarket in Cardiff on a single day in December 2010.
'De-normalising alcohol'
The British Retail Consortium said it was a very small-scale survey, which would be skewed by the fact it was carried out close to Christmas.
The BRC's food director, Andrew Opie, said: "Supermarkets are the most responsible sellers of alcohol. There's no evidence to link the way alcohol is sold currently to irresponsible drinking."
"Limiting supermarket displays would create inconvenience for the vast majority of customers who enjoy alcohol sensibly", he said.
Alcohol Concern wants England to follow the example set in Scotland where laws restrict the places where alcohol can be seen.
Gavin Partington from the Wine and Spirit Trade Association said there was no evidence from Scotland that the change had any impact on tackling alcohol misuse.
"Far from demonising alcohol, surely we should encourage people to drink with food," he said.
"Most people enjoy drinks in this way and that's why they are happy to buy them as part of their weekly shop."
The Welsh Assembly Government has expressed support for the move, but has not yet introduced any measures.
Doctors' leaders have backed the calls for supermarkets to change the way they display alcohol.
Dr Vivienne Nathanson, head of science and ethics for the British Medical Association, said: "We have to start de-normalising alcohol - it is not like other types of food and drink."
"Alcohol in moderation can be good for you but as many as 30% of people in the UK are drinking far too much and putting their health at risk."
Dr Nathanson said: "Having separate alcohol areas in supermarkets is only one aspect of a comprehensive strategy that the government needs to introduce to tackle alcohol misuse."
The BMA and Alcohol Concern both support the introduction of a minimum price-per-unit for alcohol of 50p.