Libya unrest: Cameron pressures Gaddafi to step down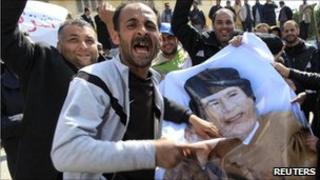 David Cameron has urged Col Muammar Gaddafi to "go now" as international pressure on the Libyan leader grows.
The UK PM said Libya had "no future" that included Col Gaddafi - the UK has frozen his British-held assets and withdrawn his diplomatic immunity.
The government said the "vast majority" of Britons who wanted to leave Libya had done and arrangements were being made for the rest.
European Union sanctions against Libya are expected to be announced later.
On Sunday, an RAF Hercules came under small-arms fire rescuing oil workers - including 20 Britons - from the desert.
Mr Cameron said: "We are now putting serious pressure on this regime.
'Isolated'
"We have introduced a travel ban and asset freeze, and all of this I think sends a very clear message to this regime - it is time for Col Gaddafi to go and to go now. There is no future for Libya that includes him."
The measures, which followed a UN Security Council agreement to impose sanctions, were designed to show "just how isolated" his regime was, Mr Cameron added.
Ministers have also removed their diplomatic immunity and Business Secretary Vince Cable has imposed an export ban on Libyan banknotes, which are printed in Britain.
Authorities in Tripoli asked permission to export an estimated £900m worth of currency to Libya, prompting fears the money could be used to fund further repression of anti-government protesters.
The prime minister's spokesman said on Monday that the vast majority of Britons who wanted to leave Libya, had done so. Of the "very small numbers" who remained, arrangements were being made for them, he said.
Defence Secretary Liam Fox said some Britons working in the oil and security industries wanted to remain for now but military assets would be available to get them out "if circumstances change".
Asked about how worried the British government was about mustard gas supplies still left in Libya, the prime minister's spokesman said: "It's a complicated situation in Libya and we are concerned about what Col Gaddafi might do, and [need to] be alive to a number of possibilities because of events over the last week."
Mr Cameron also paid tribute to the bravery of the British special forces who carried out a second mission on Sunday to rescue stranded desert oil workers from a number of countries.
Three RAF Hercules aircraft were involved in the operation to rescue 150 people, one of which was shot at above an air strip south-west of Benghazi.
Some of those rescued have described the moment the Hercules was shot at, forcing it to abandon a landing.
One British oil worker said: "The aircraft took two hits on the right hand side of the fuselage, you just heard 'Bang bang' as the rounds actually struck."
Another said after failing to land at two blocked off fields, the Hercules was trying again at a third when the firing started, forcing them to abort.
Dr Fox also paid tribute to the "very brave personnel" involved in getting UK citizens out of Libya. The fact that most of those people helped to leave Libya on Sunday were foreign nationals showed that other countries were also having problems getting their people out of the country, he said.
Asked about the possibility of a no-fly zone, he said that would require a UN resolution which would be mediated through Nato.
It would require a lot of planning and legal issues, he said, adding: "The main aim of our policy is to get rid of Col Gaddafi to make sure we don't have to get into these situations."
While restrictions had been placed on Col Gaddafi and his family, the "net will tighten" around the people around them, unless they abandoned the Libyan leader, he said.
On Saturday, another 150 oil workers, many of them British nationals, were rescued from the desert by two RAF Hercules and flown to the safety of Malta.
They later caught flights back to the UK, which arrived at Gatwick airport on Sunday and early on Monday.
Meanwhile, the Royal Navy frigate HMS Cumberland has left Benghazi for Malta carrying about 200 civilians, including 50 Britons, who are expected to be flown back to the UK on Monday or Tuesday.
The government said HMS York remained in the region and was "ready to assist as required".
The Foreign Office has closed the British embassy in Tripoli, leaving a skeleton staff working in a different building.