Pagans campaign for Census voice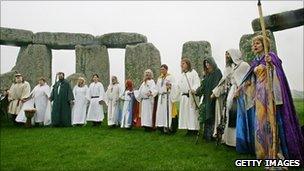 Pagans are campaigning for druids and witches to declare their religious affiliation in next month's Census to gain greater recognition for the group.
The Pagan Federation says it wants the same recognition as other faiths.
Secularists say the optional question about what religion people are could lead to artificially large numbers identifying themselves as Christian.
That in turn could lead to an over-provision of faith schools, the British Humanist Association argues.
In the 2001 Census, more than 70% of people described themselves as Christian.
The Pagan Federation insists druids, wiccans, witches and other pagans constitute a serious and growing religious group.
Ten years ago 42,000 people declared themselves as Pagans - the seventh highest number for any UK religion - but some experts believe the true figure was nearer 250,000 - and is significantly higher now.
BBC Religious affairs correspondent Robert Pigott said the 42,000 figure was still only a fraction of those describing themselves as Jedi Knights.
Pagans do not worship one single god, but look for the spiritual in nature.
Some groups concentrate on specific traditions, practices or elements such as ecology, witchcraft, Celtic traditions or certain gods.
Wiccans, druids, shamans, sacred ecologists, odinists and heathens all make up parts of the Pagan community.
In October, the Charities Commission granted the Druid Network official status as a religion.
Related Internet Links
The BBC is not responsible for the content of external sites.