7/7 inquests: MI5 'unlikely' to have foiled bomb plot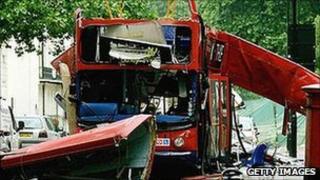 There was no "realistic prospect" of MI5 uncovering the 7/7 plot even if clues about the bombers had been followed up, the inquests into the attacks have heard.
Witness G, a senior security officer, said he did not believe more steps should "reasonably" have been taken to investigate ringleader Mohammad Sidique Khan and his deputy, Shehzad Tanweer.
Intelligence officers watched the pair meeting extremists planning a fertiliser bomb attack in 2004.
However, they did not identify them.
The two men were among four suicide bombers who killed 52 people on 7 July 2005.
The bombers targeted Tube trains at Aldgate, Edgware Road and Russell Square, and a bus in Tavistock Square.
The top MI5 officer, giving evidence anonymously, insisted that there was not enough intelligence to make Khan and Tanweer priorities for surveillance before the July 7 2005 London bombings.
James Eadie QC, counsel for the home secretary and MI5, asked him: "Knowing what you know now, do you consider that more steps should reasonably have been taken to investigate in particular Mohammad Sidique Khan and Tanweer?"
The senior security officer answered: "I do not."
Records searched
Mr Eadie continued: "Even if further steps had been taken, do you consider there to have been any realistic prospect of uncovering the 7/7 plot?"
To this, Witness G again replied: "I do not."
The inquests are considering whether MI5 could have drawn together different strands of intelligence about Khan's links with extremists and established that he was planning terror attacks.
A number of 7/7 survivors and relatives of those killed in the attacks argue that MI5 had enough information about the bomber to make him a priority for an in-depth investigation which would have uncovered his plot.
The inquest also heard that details of contact between Khan and a known Islamist in Leeds were not passed on to MI5 in June 2004.
MI5 officers investigating the fertiliser bomb plot made a formal request for the force to search its records for information about a "Sidique Khan", of Gregory Street, Batley, West Yorkshire.
He was the registered keeper of a Honda Civic that had travelled from Leeds to the home of fertiliser bomb plot ringleader Omar Khyam in Crawley, West Sussex.
The force's surveillance officers had watched Islamist Martin McDaid as he was given a short lift in Leeds in a BMW registered to "Sidique Khan" of Gregory Street, Batley in April 2003.
The information was recorded on the force's Special Branch computer system, known as Clue, but did not come up when it was searched for MI5 over a year later.
Assistant Chief Constable John Parkinson, of West Yorkshire Police, told the inquest the system appeared to be working correctly and he could not explain why the details were not returned.
"Exhaustive inquiries have reconstructed the search at that time. I cannot give you an explanation as to exactly why that name of Sidique Khan did not respond to a search against Sidique Khan," he said.
"There is no technical reason that we can find."
The inquest at the Royal Courts of Justice in London was adjourned until Monday.