Royal wedding: Kate Middleton prepares for public life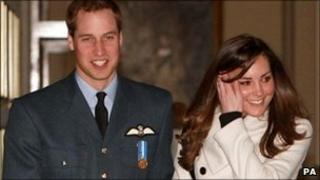 Apart from the briefest of glimpses, when she was photographed leaving a restaurant with the Duchess of Cornwall, Kate Middleton has been pretty much "hidden" from public view for 68 days, says BBC royal correspondent Peter Hunt.
This is no mean feat, given the apparently insatiable international demand for updates about the engaged couple.
On a December night, 68 days ago, Kate, by Prince William's side, attended a charity event in Norfolk.
The walk from their car was a short, but significant one.
It marked the next stage of her new life.
So far, she is tiptoeing, not striding along this royal path. Her guide is William, a cautious prince who is influenced by recent, painful history.
Thirteen days after her engagement had been announced, William's mother was catapulted into the nation's consciousness.
Diana attended a recital in aid of an appeal for the Royal Opera House.
It was her dress, not the music on offer that evening, 30 years ago, which lingered in the mind.
For her first public engagement, the then Lady Diana Spencer wore a strapless black taffeta silk ballgown which the author Andrew Morton has described as having a "plunging, gravity-defying decolletage".
The royal 'manual'
Morton also records how Diana found the event a "horrendous occasion", and when she confided in the late Princess Grace of Monaco, the former film star joked, "Don't worry. It will get a lot worse".
The guide to how not to introduce someone into the royal fold was written in the 80s and the 90s. It is a "manual" William will refer to, as he begins to show his fiancee the royal ropes.
December in Norfolk was a dry run.
There was no pre-publicity and, in advance, officials were vague about whether or not Kate Middleton would join her husband-to-be at the charity fundraiser.
By contrast, scheduled outings in Anglesey and St Andrews have been known about for weeks and camera crews from several nations will be at the locations to record Kate's every move and facial expressions.
When Charles and Diana visited Wales after their wedding, they travelled on the royal train.
Speeches and champagne
It was, according to the Prince of Wales' biographer Jonathan Dimbleby, "a triumphal tour".
William and Kate's event will last about an hour and a half. Of course, it is different.
Wales does not need to be "introduced" to the couple.
The second-in-line to the throne works as an RAF search and rescue pilot on Anglesey.
Kate stays with him, from time to time, in his secluded farmhouse.
During her 90 minutes on display, the apprentice royal will shake dozens of hands, listen attentively to speeches and pour champagne over a new RNLI lifeboat which William will have just named.
She will also have an opportunity to snack on some bara brith (Welsh fruitcake) prepared for the guests by the local Ladies Guild.
The next day, it will be a different country - Scotland; but more of the same.
William and Kate will be returning to St Andrews where they first met 10 years ago.
Back then, by her own account, she went bright red and "sort of scuttled off" after her first encounter with a prince. Now she is returning with him on her arm to launch the university's 600th anniversary appeal.
She will attend a reception; watch her future husband unveil a plaque; and probably go on her first walkabout. And then, when that is done, Kate Middleton and Prince William will, quite deliberately, disappear from view.
He has his work to do; she will focus on their wedding plans. Anglesey and St Andrews are the templates for how this couple will work.
There will be, what their aides call, "spikes" in activity - the forthcoming tour of Canada is an example - followed by periods when William and Kate will be below the radar.
This, they hope, is the recipe for a sane and stable relationship.
But no matter what the pace, the trajectory is clear.
Kate Middleton is starting her lifelong royal employment.
As Diana's sisters are said to have told her when she was having a pre-wedding wobble: "Bad luck. Your face is on the tea-towels so you're too late to chicken out".