British photographer Giles Duley 'stable' after blast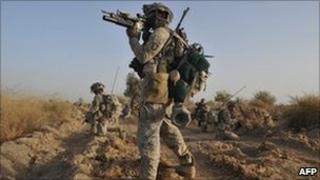 A British photographer injured in a bomb blast in Afghanistan is in a stable condition, the Queen Elizabeth Hospital in Birmingham has said.
London-born Giles Duley, 39, was embedded with US troops in Kandahar when the bomb exploded on Monday.
He had several amputations in a UN hospital before he returned to the UK.
His brother David told the New York Times he had lost one leg below the knee, one leg above the knee and his left arm was severed above the elbow.
He said he had not suffered any internal injuries and was "surprising everyone with his resilience and humour".
Mr Duley is now facing further surgery at the Queen Elizabeth Hospital in Birmingham.
A hospital spokeswoman said he was in a "stable condition" in its critical care unit.
Published worldwide
Mr Duley spent 10 years as an editorial photographer in the fashion and music industries in both the US and Europe, but his work now focuses on humanitarian projects. He has worked with Medecins sans Frontieres, as well as a host of other charities.
His work has been exhibited and published worldwide in many publications including Vogue, Esquire, Rolling Stone and the Sunday Times.
The freelancer also worked with the Camera Press agency in London.
"In Afghanistan he had initially intended to cover the plight of bomb victims but an opportunity presented itself to join frontline action with the US army; an offer that the true photojournalist within him couldn't resist," a spokesman for the agency said.
In January last year, Rupert Hamer, defence correspondent of the Sunday Mirror, became the first British journalist to be killed in Afghanistan when the armoured vehicle in which he was travelling was hit by a roadside bomb.
Philip Coburn, a photographer with the same newspaper, suffered severe leg injuries.