Killer Jeremy Bamber's long fight to clear name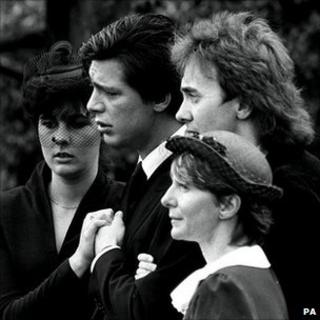 A quarter of a century ago, Jeremy Bamber was convicted for shooting five of his family at their Georgian farmhouse in the Essex country village of Tolleshunt D'arcy.
The judge call him "warped and evil beyond belief" and he ended up with a whole life sentence for the 1985 killings.
Bamber, now 50, has always denied killing his wealthy adoptive parents, his sister and her six-year-old twin sons.
He claims it was his schizophrenic sister Sheila Caffell who shot her family before turning the gun on herself.
In his 25 years behind bars, he has repeatedly, but unsuccessfully, appealed against his conviction.
'Gone crazy'
In the early hours of 7 August 1985, a caller giving his name as Jeremy Bamber rang Chelmsford Police Station.
He said he was ringing from his home in Goldhanger, Essex, where he had just had a call from his father saying: "Your sister's gone crazy and she's got a gun."
After the sound of a shot, he said the line had gone dead.
Hours later armed officers broke into White House Farm and found the carnage.
In the living room was the body of Bamber's 61-year-old father Nevill, shot eight times and beaten.
Upstairs Bamber's young nephews, Nicholas and Daniel, were found dead in their beds. Bamber's dead mother June was in the master bedroom, and lying beside the bed, was his sister's body.
Bamber said his sister, who had not been taking her medication for mild schizophrenia, had "gone crazy", shooting her parents and children before killing herself.
At first, police did suspect Ms Caffell, who had been found with her fingers around the .22 calibre rifle used to shoot all five.
Suspicion then fell on Bamber when his then girlfriend, Julie Mugford, told police he had plotted to kill his parents for his £436,000 inheritance.
At Bamber's trial at Chelmsford Crown Court in 1986 she said he had talked of sedating his parents and setting fire to the farmhouse but had changed the plan to hiring an assassin.
A silencer which allegedly had traces of Ms Caffell's blood on it was found in a cupboard three days after the shootings.
The trial heard expert evidence that Ms Caffell could not have replaced the silencer in the cupboard given her injuries from the first shot and no traces of gun oil were found on her nightdress.
Sentencing Bamber to five life prison terms, the judge Mr Justice Drake said he was "warped and evil beyond belief". He recommended that Bamber served at least 25 years.
Neck slashed
Bamber's first appeal was dismissed in 1989 - three years after his conviction - but the case was sent back to the Appeal Court in 2001.
His lawyers claimed new DNA tests suggested blood found on the murder weapon could have belonged to his parents, not his sister.
Rejecting his appeal in December 2002, Lord Justice Kay said that blood evidence used in the original trial still stood.
The same year, he angered his surviving family when he offered a £1m reward for any fresh information which would help him have his sentence quashed.
In 2011, he tried to appeal for a third time against his conviction, but the Criminal Cases Review Commission (CCRC) said it had provisionally decided not to refer his case to the Court of Appeal.
He also lost a 2009 appeal to reduce his full life sentence to 25 years. Judges told him the "extreme gravity of the offences" justified their decision he should die in jail.
Bamber is one of three convicted murderers each given a whole life tariff who have applied to the European Court of Human Rights on the basis that their lifelong detention amounts to inhuman and degrading treatment.
Throughout his 25 years locked up, Bamber has continued to make headlines.
Beyond appeals against conviction and sentence, he has also lost High Court claims for £1m from his grandmother's will and about £300,000 for being "unfairly frozen out" of his family's wealthy caravan site firm.
He has also unsuccessfully attempted through the courts to have his security status downgraded from a highly dangerous category A prisoner to category B.
In 2004, he needed 26 stitches after another inmate at York's Full Sutton jail slashed his neck while he was talking on the phone.
A website, set up in his name, invites supporters to e-mail him and carries his blog written from prison.