UK newspapers focus on crisis in Egypt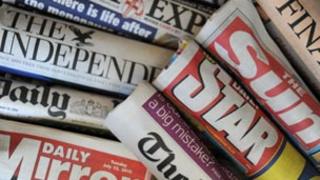 There is much fear in the papers about what will happen next in Egypt.
The Guardian believes President Mubarak has "laid a powder trail that could explode today" if the truce between the people and the military breaks down.
"This is a deeply dangerous moment for Egypt," agrees the Times, branding the president "a calculating despot".
But the Financial Times is more upbeat, calling this "a moment bursting with possibilities that could change the face of the Arab world".
'Human rights madness'
The decision by MPs not to give voting rights to prisoners is welcomed by the more Euro-sceptic papers.
The Daily Mail calls it the "historic defence of Britain's sovereign right to make its own decisions".
The Sun is also happy with MPs for rejecting "human rights madness".
The Daily Express, for its part, demands that David Cameron continues to "defy" Europe, comparing the issue to the test Margaret Thatcher faced when the Falklands were invaded.
'Thinking cap'
But not every paper agrees that giving prisoners the vote would be wrong.
The Independent fully supports the idea, arguing that anything which further isolates people already on the margins of society "is a bad thing".
The Daily Mirror, meanwhile, warns David Cameron to "put his thinking cap on or he'll be breaking the law himself" by defying the European Court.
It demands that he publish all of his legal advice "because he may need help to reach a sensible decision".
'Comprehensivisation'
The Daily Telegraph is furious at the idea of forcing universities to admit quotas of students from poor families.
"The result would be tantamount to the comprehensivisation of our elite universities," it argues.
The Times is worried about the huge fines that universities could face if they fail to meet these quotas.
"It is absolutely essential that the government respects the autonomy of the institutions" and lets them admit who they want - on merit alone, it adds.