Wedding planner: Preserving the memories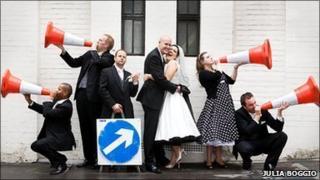 Weddings - royal or not - are a big deal for those involved. Most couples expend much of their energy and resources on documenting the day so they can remember every detail, but has the way we preserve those memories changed?
As the royal wedding approaches, Kate Middleton and Prince William, and their team, will be frantically preparing. The sheer scale of the task is something most ordinary couples couldn't contemplate, but one thing the young royals won't have to worry about is whether the photos will turn out OK.
With the world's press watching their every move on 29 April, this is one event that will be documented ad infinitum.
Tradition will surely dictate that the wedding photos for the heir to the throne and his future queen involve some pretty hefty formal family line-ups. Whether the couple add a modern twist to the proceedings is yet to be seen - video clips on YouTube or a page on Flickr perhaps?
One potential modern take on the wedding video was ruled out recently, when St James's Palace announced that the event would not be filmed in 3D, despite requests from broadcasters.
It's certainly the case that the way most brides and grooms choose to preserve their brief moment in the limelight has been evolving, away from the stuffy and predictable. We've pretty much moved on from the obligatory procession of relatives standing shoulder-to-shoulder in photos, and interminable, shaky 80s-style videos.
Creativity has been creeping in, with couples leaning more towards candid reportage and documentary-style stills and video. Meanwhile new technology has influenced the wedding experience as it has all other elements of life.
"We have heard from a wedding party who tweeted from the aisle to say 'we've done it, we're married'," says Miranda Eason, editor of You and Your Wedding and Cosmopolitan Bride magazines.
At wedding video company High Definition Bride, based in West Sussex and London, even the most basic of packages offer compressed iPhone, mobile and web versions of wedding videos for their clients.
"It just offers something new if they can get it on their phone and show it to their friends," says owner Anthony Aurelius.
Although most couples stick to a lower budget, up to 20 each year pay nearly £4,000 for the firm's top-rate package - a four-camera shoot with a TV director that includes "diary room"-style messages from their loved ones, he says. One hundred edited DVDs are then sent out directly to the wedding guests a week later.
Anthony says that as technology has become cheaper - such as the high-definition cameras and editing equipment they use - it has opened up more possibilities for brides and grooms.
However, it has also opened the market to more and more operators who "think they can film and edit", he adds - a view which is echoed by professional photographers who have seen a rise in amateur competitors since the advent of digital technology.
Although he has a clear interest in a flourishing wedding video sector, he does say he believes its "naff image", which was perhaps prevalent for a while, has turned around.
"Consciousness is shifting because of [video-sharing website] YouTube and the availability of cameras - the public are thinking more and more about what they could do with it."
Dirty Dancing couple
The briefest of searches for wedding footage on YouTube turns up a seemingly never-ending list of clips. Surprise entrances, first dances and serenades are becoming more popular, and those moments are being shared with millions of strangers.
"YouTube has made a huge different to the first dance," says Debbie Diggle, a wedding planner and tutor for the Institute of Professional Wedding Planners.
"You have to have a proper first dance, you can't get away with just shuffling about in circles. Everybody wants to have their five minutes of fame and get it online," she says.
But would couples really ever attempt to choreograph their wedding memories to gain notoriety on the web?
One couple that became part of the YouTube wedding dance phenomenon are south London-based Julia Boggio, from New Jersey, and her British husband James Derbyshire.
Their infamous re-enactment of the final dance in the film Dirty Dancing became a massive YouTube hit in 2007.
With nearly 8.5 million hits to date, the clip led to numerous media interviews and an appearance on US chat show Oprah Winfrey, during which Julia twirled with the original dirty dancer Patrick Swayze.
Julia is an award-winning wedding and portraits photographer, but insists the video was not a publicity stunt - it was posted online 18 months after their marriage when they became aware of YouTube as a way to share the moment with friends in the US, she says.
Conscious that weddings can seem formulaic to guests who often attend several each year, Julia and James did the dance to create a "stand-out" moment that suited their creative personalities, she says.
But she adds that she did meet one client who said she had a "bone to pick" with her - a friend had aspired to copy the Julia-James phenomenon with a big wedding dance number, involving lots of her guests, and hoped it would prove an internet success.
"The bride really wanted the dance to go on YouTube and to get loads of hits. But she was being really 'bridezilla' about it - her intention was to get famous, and that's not really how these things happen."
Julia's work has a "niche" blend of quirky, fashion-shoot style photography that she says helped pioneer the use of props in wedding stills.
"People are treating their weddings more like a show and they're having fun with it.
"I see the personalities of the couples coming out so much more strongly. They are drawing influences from all sorts of places now, like wedding blogs," she says.
With her husband's input they also do videos, with the aim of producing a "documentary about two families coming together" - a process so intensive they take on no more than five per year, at £6,000 each.
But it's not just the wedding event itself - recording the "story" has expanded beyond the day with numerous photographic and video businesses offering pre and post-wedding shoots to add to the portfolio.
This includes the relatively recent phenomena of a US and Australian craze they call "trash the dress" - also known as "treasure the dress", "rock the frock" or, in Julia's case, the "I do redo".
A post-wedding shoot, it usually takes place at a venue that contrasts with the couple's wedding, and in some cases does involve literally "trashing" the outfits, such as by jumping into the sea or rolling in mud.
"The point is to do things they weren't able to do on the wedding day. It extends the wedding experience and varies it. Sometimes people get a bit depressed after the wedding and want to do something as a couple, or they simply want another chance to wear an expensive dress they have only had on once," says Julia.
Whatever people choose to do, says wedding magazines editor Ms Eason, it is more likely nowadays that they will use the different ways available to them to "put their own stamp" on the event.
"What they want is to find their way to capture the unfolding story of the day. They want people to come away from the wedding and say 'that was so them'."