UK newspapers angry at Lockerbie bomber release report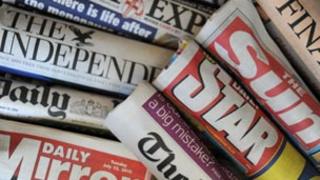 The official report into the release of the Lockerbie bomber provokes anger in many of Tuesday's newspapers.
The decision always had a whiff of "political chicanery" about it, says the Daily Express, and "we now know that to be the case".
The Sun says Gordon Brown may not have turned the key to unlock the bomber's cell, but he might as well have done.
The Daily Mirror, though, insists David Cameron would have done exactly the same if he had been in charge then.
'Out of steam'?
The Independent keeps the political situation in Egypt in the spotlight.
Showing a more empty Tahrir Square - focus for the protests - than in recent days, it asks whether a potential revolution "will run out of steam".
Ian Black, in the Guardian, says the key question now is whether significant reform can take place without President Mubarak's imminent departure.
"It's not easy to predict what will happen next," but the "sclerotic" political system must change, he adds.
Too much equality?
The Times leads with news that universities are to be encouraged to drop their entry requirements for students from poorer backgrounds.
The idea is to improve the "social mix" on campuses, it says.
But the Daily Telegraph says it is "profoundly misguided" and could damage the UK's most "elite institutions".
It warns it will also lead to "a deluge of appeals" from those "justifiably aggrieved" that their child has lost out to another with poorer grades.
'Losing the will'
The Financial Times uses its leader column to discuss David Cameron's recent speech on multiculturalism.
It says his pledge to eradicate extremism is "impossible" to achieve but "laudable" nonetheless.
The Daily Mail's leader, however, is a comprehensive attack on the coalition, which it says appears to be "losing the will to fight for its own policies".
It also brands the BBC "apologist-in-chief for the bloated public sector" the government is trying to slim down.