Former FA chief due at inquiry into football governance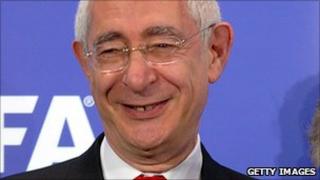 The former chairman of the Football Association will appear before an inquiry into the governance of the English game later.
Lord Triesman, who resigned last year after a newspaper sting, will appear before MPs on the Culture, Media and Sport Committee.
They have posed several key questions, including whether existing football authorities are fit to run the sport.
Lord Triesman is expected to be highly critical of the FA.
Sports minister Hugh Robertson recently described football as the country's worst-run sport.
The coalition agreement, drawn up after last year's general election, pledges to encourage the reform of governance rules to support the co-operative ownership of clubs by supporters.
'Too much debt'
The all-party Commons inquiry will investigate the running of individual clubs as well as the sport in general.
It will ask a number of questions, including whether there is too much debt in the game and how fans can be more involved in governance.
It will also ask whether football clubs should be treated any differently from other commercial organisations, and whether there is a need for formal government intervention in the game.
The FA, in its written evidence, is opposed to such intervention, but others parties, including supporters' groups, disagree.
On Tuesday, the inquiry will hear from Lord Triesman and from Lord Burns, whose structural review of the FA recommended substantial reforms - as yet to be fully implemented.
The BBC's sports editor David Bond said the state of the game was brought into sharp focus last year by England's poor showing at the World Cup, followed by the failure of the 2018 World Cup bid and growing concerns over financial inequality and instability.
Now free of any obligation to the game, he said Lord Triesman was likely to tell MPs the FA is unfit for purpose and overly dominated by the Premier League.
Lord Triesman stepped down after the Mail on Sunday claimed he had said that Spain could drop its 2018 bid if rival bidder Russia helped bribe referees at last summer's World Cup.