Gay row government drugs adviser GP Raabe sacked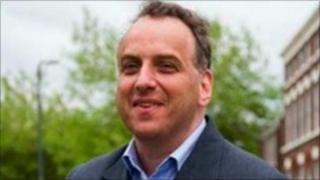 A Christian GP has been sacked as a government drugs adviser after it emerged he wrote a study linking homosexuality to paedophilia.
Hans-Christian Raabe said his dismissal came as a result of his views "completely unrelated to drug policy".
Dr Raabe, of Manchester, was appointed to the Advisory Council on the Misuse of Drugs (ACMD) less than a month ago.
The Home Office confirmed his dismissal and said it would recruit a replacement GP shortly.
His appointment to the council had been criticised by a high-profile former member of the committee and some politicians.
Dr Raabe, who backs total abstinence from drugs, was one of seven authors of a report called Gay Marriage And Homosexuality: Some Medical Comments in February 2005.
It read: "Any attempts to legalise gay marriage should be aware of the link between homosexuality and paedophilia.
"While the majority of homosexuals are not involved in paedophilia, it is of grave concern that there is a disproportionately greater number of homosexuals among paedophiles and an overlap between the gay movement and the movement to make paedophilia acceptable."
In 2009, Dr Raabe stood for the Christian Party and Christian People's Alliance in the European parliament elections.
'Wrong perception'
Following his dismissal, Dr Raabe told the Daily Mail: "I have been discriminated against because of my opinions and beliefs, which are in keeping with the teaching of the major churches.
"My appointment has been revoked based on the wrong perception that I could potentially discriminate against gay people - something I have never done, neither in my private nor professional life."
A Home Office spokesman said: "Dr Raabe's appointment to the ACMD has been revoked and we will be starting a recruitment campaign for a replacement GP shortly. The ACMD's work will continue."
The ACMD, which advises the government on its drugs policy, faced controversy when its chairman, Professor David Nutt, resigned over the government's decision to reclassify cannabis from a class C to a class B drug two years ago.
Prof Nutt had criticised Dr Raabe's appointment saying it was "deeply worrying" that he could support total abstinence when there was "a vast body of evidence in favour of harm reduction".
Bridget Phillipson, a Labour member of the Commons Home Affairs Select Committee, said it was an "absolute outrage" the government had appointed "someone with such horrific opinions to this senior role".