Royal wedding: Who 'owns' Kate Middleton?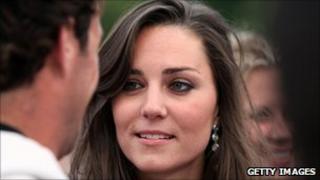 As far as many people are concerned, Kate Middleton is a middle-class girl from Middle England. But as her wedding to Prince William approaches, several places have staked a claim on her to boost their own profile and generally bask in the warm glow of a royal romance.
VisitBritain estimates an extra 300,000 visitors will arrive on these shores this year and one of the major draws will be the wedding of Prince William and Kate Middleton on 29 April.
The organisation says the "eyes of the world will be on Britain" during the royal wedding and it intends to capitalise on the interest to showcase the whole of Britain.
But it highlights two places in particular which will attract the kind of publicity which money simply cannot buy - St Andrews University in Scotland, where the couple met, and Anglesey in North Wales, where they will spend the early years of their marriage.
Both are known for their "isolation" - students in the small town of St Andrews call it the "bubble", and while Anglesey is connected to the mainland by two bridges, local people value it for its separate identity.
However, another place that might claim Kate Middleton is Bucklebury in Berkshire, where she grew up. It is a small but well-connected village, about an hour-and-a-half's drive away from Buckingham Palace.
So, does any one of these three places have a bigger claim than the others?
Bucklebury, Berkshire
Claim to fame: Miss Middleton was born at the Royal Berkshire Hospital in Reading and raised in a modern five-bedroom detached house in Bucklebury. Her first two schools were in Berkshire - St Andrew's School in Pangbourne and Downe House in Thatcham - before she went to Marlborough College in neighbouring Wiltshire.
What it has to offer: Bucklebury (population: about 2,000) is one of many picture-postcard villages in the area. It offers not only country living but also big cities and good schools within easy reach.
Wedding plans: Bucklebury Parish Council's website has a dedicated royal wedding page. So far a parish celebration is due to take place at Bucklebury Farm Park, while the Cottage Inn and the Bladebone Inn are also planning an event.
Cashing in: The average cost of a three-bedroom detached home in Bucklebury is £600,000, and Liz McLean from Jackston-Stops & Staff in Newbury says house prices are not likely to be affected by the royal connection.
Meanwhile, Hampshire-based coach company Mortons is making the most of Berkshire's future princess. It has organised a Kate Middleton Country tour, taking in previous homes, schools and the church where she was christened.
View from inside: Wynne Frankum, chair of Bucklebury Parish Council, said: "This is her home. Her family have been in the village and the parish all her life. She and Prince William go to the pub quite frequently, they pop into the local shop, they walk their dogs when they're here.
"We are privately proud. People have been very protective of Kate for a long time and we respect her privacy.
"We were quite surprised by the Middleton tours coming though the village and I think the pub has seen a big increase in visitors. We hope the Royal connection will do the local businesses a lot of good.
"We are a very quiet little backwater and I cannot imagine the interest is going to continue after the summer, but I may be proved wrong."
Anglesey
Claim to fame: Prince William qualified as an RAF search and rescue pilot in September and is serving a three-year posting at RAF Valley on Anglesey. The newlyweds will live on the island after their wedding in London, without servants - according to the Daily Telegraph - but with security. The prince currently lives in a cottage off the base.
What it has to offer: Anglesey (population: about 65,000) has award-winning beaches and 125 miles (200km) of coastal paths. Simon Calder, the Independent's travel editor, has put Anglesey in his top five places to visit in 2011.
Wedding plans: Still being thrashed out but plenty of street parties and "something on the beach" says the local tourism office.
Cashing in: A council presentation on Anglesey as a Tourism Destination in 2011 flagged up potential earnings from the wedding under the heading: "Luck! - A couple's decision to marry".
When the Royal engagement was announced on 16 November, the number of people visiting the official Anglesey tourism website increased by about 70% compared with the previous week. The number of cruise ships docking at the island's port of Holyhead is also set to grow this year.
Dafydd Hardy, director of one of Anglesey's estate agents, says the average cost of a three-bedroom detached home on the island is £300,000. And he hopes the island could see rise in prices for some of the higher-end properties - possibly as much as 10%
View from inside: Jane Blakey, Anglesey Tourism Association chairman, said: "We don't own Kate and William. We are very lucky they have chosen us and we take that as a great honour. The people here really respect their privacy.
"We know its going to boost tourism. Already more people have been going to watch the helicopters take off from Valley.
"Although we are not going to look a gift horse in the mouth, we want to do it with a bit of decency. We don't want to become known as a tacky island."
St Andrews
Claim to fame: The pair attended the University of St Andrews in Fife between 2001 and 2005, where they both studied art history until the prince switched to geography.
What it has to offer: Home to world-class golf courses and beautiful beaches, the small city has a population of nearly 17,000 plus 9,000 university staff and students.
In addition to St Andrews being the third oldest university in the English-speaking world, it also has the reputation of being Britain's top match-making university - one in 10 students is said to meet their future partner there.
Wedding plans: The university and the community are joining forces but they are still in the throes of organising events.
Cashing in: The university's profile received another boost this week - the Royal couple are to return to their alma mater on 25 February to launch its 600th anniversary appeal.
Ian Morton, managing partner of Bradburne & Co estate agents in St Andrews, said the average cost of a three-bedroom detached home in the area is £240,000 (add £100,000 for one in the historic part of town). He says while house prices are likely to remain the same in the short-term, rental incomes are "high and will remain high" but this was mostly because of a shortage of student accommodation.
View from inside: Rachel Hanretty, editor of The Saint, the university's independent newspaper, said: "St Andrews is the place where it all started and the royal connection will give the university a higher profile. It is making a film about its 600th anniversary which will feature the royal couple. The wedding is a great marketing tool.
"Tourism may be boosted by the university's most famous alumni. There has been hundreds of years of golf history but the Royals have only been around in the last few years. Eventually, particularly for Americans, I think it will become better known as the place where William and Kate met.
"But its most famous alumni could just cement the stereotype of St Andrews as the Scottish Oxbridge for the posh and privileged, and girls will come looking, maybe not for a prince, but for privately educated, upper middle-class husband material."
Elsewhere
Other towns and cities (and probably many restaurants, bars and hotels) will claim to have Kate Middleton links.
Her family tree has been closely scrutinised by the media, with her father Michael's prosperous middle-class roots in Leeds contrasted with mother Carole's upbringing as a builder's daughter in Southall, west London.
When the engagement was announced, Kate Middleton was formally congratulated at a council meeting as "originating in the London borough of Ealing", and residents of Clarence Street in Southall, where Kate Middleton's great grandparents lived, are planning an extra-special street party.
In the three-horse race between Bucklebury, St Andrews and Anglesey, the winner is Berkshire, according to branding expert Jonathan Gabay. He says "roots and authenticity" determine Kate's true origins.
"Wherever she was born and brought up, that's who owns her initially," he said.
"It is the place where she got her grounding, where she discovered who she is."
But he said once Kate Middleton was more established, princess-making Bucklebury would lose its grip on its most famous daughter.
"Eventually it will be the nation - Brand UK - that owns her", he said.