Newspaper review: PM's speech attracts more headlines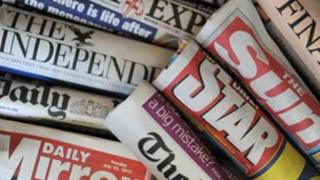 Prime Minister David Cameron's speech criticising "state multiculturalism", is continuing to provoke comment.
The Guardian was none too impressed, saying he "flunked it," and offered a "mix of cliches, tired thinking and some downright offensive terminology".
For the Times the speech was forceful and courageous, while the Daily Mail said it echoed the views of the vast majority of ordinary Britons.
Leo McKinstry in the Daily Express called the speech "brave".
The Daily Telegraph reports what is said to be a breakthrough in treating the most common form of blindness - dry age-related macular degeneration.
The Guardian has a story on the development of a universal flu vaccine said to work against all known strains.
And in the Telegraph's lead, it says as many as 15,000 local authority workers earning more than £58,000 a year are going to be named.
It comes under plans to force councils to cut middle-management waste.
"Behave or we take your iPod" is the somewhat arresting headline on the front of the Daily Mail.
Under government plans to replace Anti-social Behaviour Orders, police will apparently have the power to confiscate items of "huge importance" to troublemakers, like their gadgets.
A Daily Express poll suggests 90% of MPs will defy a European Court ruling that prisoners should be able to vote.
The Sun also hopes MPs will tell the court to "get lost"..
The Daily Mirror accuses the government of taking "a huge risk with public safety" following Labour Party claims that 10,000 police will be axed.
"Theresa May should realise her fingerprints will be all over the crime," says the paper.
Many report that the first Monday in February is "National Sickie Day" - a record 375,000 people don't make it in.
The Telegraph says weather, credit card bills and a long wait to the next holiday all contribute to the malaise.