Pontin's to get 'Disney' makeover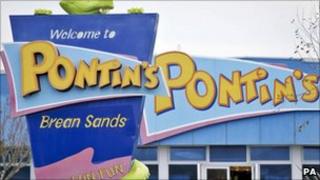 The new owner of Pontin's holiday camps says he plans to bring some "Disney-style" magic to the UK resorts.
Alex Langsam, who also owns the Britannia Hotel Group, bought the struggling company last month for a reported £20m and saved 850 jobs.
He told The Observer he wanted to reinvent the five parks as themed seaside destinations, including Disney-style cartoon costumes and attractions.
However, he said the "bluecoat" entertainers would stay.
"The bluecoats will stay because if it ain't broke you don't fix it," he said.
"But there will be people dressed up in all sorts of different ways, too."
Mr Langsam intends to invest £25m, effectively relaunching the company.
Pontin's currently operates five camps - Brean Sands in Somerset, Camber Sands in Sussex, Pakefield in Suffolk, Southport on Merseyside and in the Welsh resort of Prestatyn.
Mr Langsam said that he wanted to emulate some of the things that Walt Disney's resorts were famous for.
"If I go to the Disney site in Florida, I'm back to being a child.
"It's the adults that enjoy it as much as the kids."
The company was started by Fred Pontin in 1946 when he built his first camp on the site of a former US army base.
At one point his empire stretched to 30 parks which housed holidaymakers in chalets, in hot competition with the rival holiday camp company Butlins.
Many British stars, including Shane Richie and Bobby Davro, got their start in showbusiness as bluecoats.
Fred Pontin sold the company in 1978 and it passed through several owners before administrators were called in last November.
Leisure industry experts said it had failed to keep pace with people's expectations, whereas Butlins saw increased profits after investing heavily in its resorts.
It was bought by Mr Langsam's hotel group Britannia last week, in a deal which saved 850 jobs.