British soldier killed in Afghanistan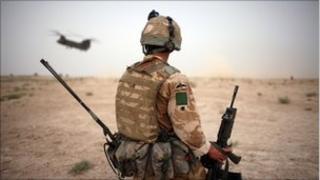 A British soldier has been killed in southern Afghanistan in a roadside bomb blast, the Ministry of Defence said.
The soldier was from 3rd Battalion The Parachute Regiment. His next of kin have been informed.
Lt Col David Eastman said: "He was part of ongoing operations to secure an area in the north of Nad-e Ali when he was hit by an IED."
On Friday a soldier from 1st Battalion The Royal Irish Regiment was killed in an "operational accident".
A total of 352 UK military personnel have now died since operations in Afghanistan began in 2001.
Neither of the two latest casualties have been named yet.
Speaking about the soldier from 3rd Battalion The Parachute Regiment, which is based in Colchester, Essex, Lt Col Eastman said: "We salute his bravery and our thoughts are very much with his family and friends at this sad time.
"He was at the forefront of the fight to bring peace and stability to Afghanistan, putting his life on the line to secure our nation."