Britons arrive from Egypt on UK-chartered plane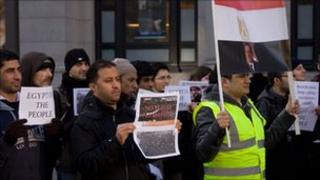 More than 70 Britons have arrived back in the UK on a government-chartered flight from strife-torn Egypt.
The flight from Cairo - carrying 76 people, including tourists, expats and British Embassy staff - landed at Gatwick airport at around 2100 GMT.
Meanwhile Prime Minister David Cameron has discussed the crisis in Egypt with US President Barack Obama.
As protests continue they reiterated their wish for an immediate transition to a "broad-based" government.
In a telephone call Mr Cameron and Mr Obama "agreed that it was vital that the Egyptian government respond to the aspirations of the Egyptian people through reform not repression", said Downing Street.
"The prime minister welcomed the restraint shown by the army in policing the most recent protests.
"The leaders agreed that it was for the Egyptian people to determine the leadership of their country. But they were clear that an orderly transition to a broad-based government, with real, visible and meaningful change needed to start now."
In the last week, tens of thousands of people have packed the Egyptian capital's Tahrir Square calling on President Hosni Mubarak to go.
Mr Mubarak has agreed not to stand again but has refused to quit before September and says he fears chaos if he leaves.
'Yearning for democracy'
Speaking in Germany about events in Cairo, Mr Cameron earlier said the demonstrations "have shown that there is a yearning for serious democracy and rights that we take for granted".
Mr Cameron also discussed the situation with US Secretary of State Hillary Clinton at a security conference in Munich where he was making a speech on multiculturalism.
The leadership of Egypt's ruling party, including President Mubarak's son Gamal, resigned in unison on Saturday.
But the United States' special envoy, Frank Wisner, said Mr Mubarak "must stay in office" during a power transition - comments which the US state department has since distanced itself from.
Demonstrations against Mr Mubarak have continued outside the Egyptian embassy in London and in other parts of the UK.
In Aberdeen a group of sympathisers gathered in Union Street and chanted: "Stand down Mubarak".