UK sailors missing off coast of Portugal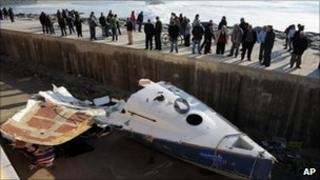 Two British yachtsmen are missing after their boat was hit by a large wave off the coast of Portugal.
Their yacht WaterWave got into trouble in rough seas as they sailed towards a marina north of Porto.
The Portuguese authorities have sent a helicopter to search for the missing men, aged 23 and 52.
A 24-year-old crew member managed to swim to safety at Povoa de Varzim. Foreign Office officials said they had offered consular assistance.
The yacht had been sailing from the north-western Spanish port of Vigo when it hit a storm at around 0330 GMT on Saturday morning.
A Foreign Office spokesman said: "We are aware of a boating accident off the coast of Portugal involving three British nationals, two of whom are missing."