TUC critical of plan to shift bank holiday to October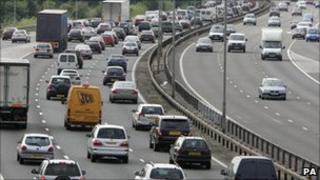 The Trades Union Congress has criticised a proposal to scrap the May Day bank holiday in favour of an alternative bank holiday in the autumn.
Tourism minister John Penrose wants a public consultation on whether to have a replacement holiday in October.
But TUC General Secretary Brendan Barber said workers and businesses have "built their schedules around" established bank holidays.
MPs will hear a White Paper on the proposal by the end of the month.
The possibility of a public consultation is expected to be one of the proposals in the forthcoming Tourism Strategy.
May Day is celebrated in many countries, where it is also known as International Workers' Day, when celebrations and demonstrations are organised by unions and other groups.
The Department for Culture, Media and Sport (DCMS) said the aim of any alteration to the bank holiday schedule would be to help the tourism industry.
The DCMS said any new bank holiday could possibly be held in October, as part of the autumn half-term holiday and could be called "UK Day" or "Trafalgar Day".
And it stressed that there will be an extra bank holiday this year for the Royal wedding, and also next year for the Diamond Jubilee, so no change would be likely to happen before 2013.
But Mr Barber called on the the government to abandon its proposals.
"There is strong support for an extra public holiday as the UK has the stingiest allocation in Europe," he said.
"But the last thing we need is for the government to mess around with established bank holidays that workers and businesses have built their schedules around.
"A few Tory backwoodsmen have a bee in their bonnet about the May Day bank holiday because of its association with international labour day. In fact May Day is a traditional British celebration dating back to the 4th Century.
"The government would do well to rise above this backbench grudge, put the needs of employers and their staff first, and scrap the idea altogether."
Mr Penrose said that while tourism businesses in the UK are "brilliant at providing a quality experience for their customers all year round" the government should also help them.
"An autumn bank holiday, possibly to be branded as a new 'UK Day', would not only help the industry, but also give us all a new focus for celebrating the best of what this country does, and all the things that make us a world-class nation," he said.
"But before we try to take this further, it's really important that everyone has a chance to consider it properly.
"If people decide they'd rather hang on to the May Day holiday, then so be it, but we ought to consider the options in a sensible way before the country reaches a collective decision.
"A national conversation on the issue would give everyone the chance to have their say. It's the Big Society in action."