Queen 'approves' of King's Speech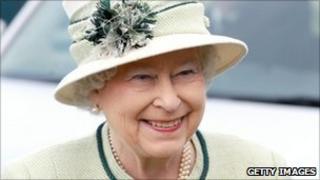 The Queen has appeared to have given her blessing to the Oscar-nominated film The King's Speech, which portrays her father King George VI.
The BBC's Rajesh Mirchandani said Her Majesty is understood to have had a private screening of the film and is said to have found it moving.
The story details her father's battle against his speech impediment and also shows a young Princess Elizabeth.
Screenwriter David Seidler said the approval was the ultimate honour.
The Queen Mother, who was married to King George VI, once asked Mr Seidler not to make the film, our correspondent added.
"When her mother asked me 30 years ago to wait, because the memory of these events were still too painful, I understood the intense feelings that were involved," he said.
"And now that the film has been written and made with love, and respect, and admiration, the fact that Her Majesty has recognised this is incredibly and wonderfully gratifying."
Mr Seidler could win an Oscar and a Bafta for his screenplay as the film leads the nominations for both awards.