Child safety vetting scheme 'to be scrapped'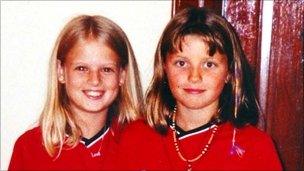 A scheme for vetting people who work with children is to be scrapped, the government is preparing to announce.
The Daily Telegraph reports that following a review of the Vetting and Barring Scheme, criminal record checks will only be carried out on those who have intensive contact with the young.
A potential 9m adults - who came into contact with children once a week or more - had been subject to checks.
Home Secretary Theresa May suspended it last June so a review could be held.
A Home Office spokesman said an official announcement - which affects England, Wales and Northern Ireland - would be made shortly.
The previous government set up the Vetting and Barring Scheme (VBS) in 2009 in response to the murder of schoolgirls Holly Wells and Jessica Chapman in Soham in 2002 by school caretaker Ian Huntley.
Halting the initiative last summer, the home secretary called it "draconian", and launched a review in October.
The Telegraph has reported that it will now be scaled back significantly - with half the number of people affected - and the emphasis shifted on to employers to ensure the right staff are screened.
Crime reduction charity Nacro cautiously welcomed the news but called for more fundamental reform of the existing "complex and confusing" policy.
A spokesman said employers needed to be better informed about how to use checking systems and tackle the discrimination many ex-offenders experienced.
"The level of checks has escalated disproportionately since they were established," he said.
"It means good people who have made a mistake and turned their backs on crime have their careers and hope for rehabilitation put on the line."
The government will also announce that criminal record checks are to be sent to individuals first - before they go to potential employers - to allow them to challenge any mistakes, the paper said.
Ms May has previously called for a more "common sense" approach that did not risk alienating volunteers doing valuable work.
Criticisms have included more than 12,000 innocent people being labelled as paedophiles, violent criminals and thieves through an error, and councils banning parents from playgrounds saying only vetted "play rangers" would be allowed in.
Some parents have also reported running into difficulties when trying to share the responsibilities of the school run.
Derek Twine, chief executive of the Scouts Association, said whilst there was a lot about the scheme that was right, he still had some reservations about the proposed changes.
He told the BBC: "We still have very grave concerns about local operation now putting the bureaucracy into the communities rather than being centralised...
"The onus is going to be put on the local volunteer in his or her community to manage everything to do with that check, as opposed to the organisation for which they want to come forward."
The review has been led by the government's independent adviser for criminality information management, Sunita Mason.
Set up by the Independent Safeguarding Authority (ISA), the original VBS system was designed to prevent unsuitable people working with children and vulnerable adults, with employers facing prosecution for breaches.
An independent review of the scheme took place after complaints that volunteers were being discouraged because the registration net was too wide.
As a result, ministers agreed to vet adults only if they saw the same group of children or vulnerable people once a week or more, rather than once a month as originally proposed.
Related Internet Links
The BBC is not responsible for the content of external sites.