Meredith Kercher's father attacks US film of her murder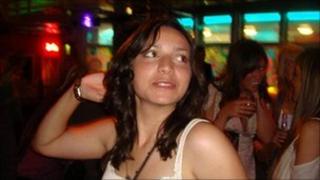 The father of murdered British student Meredith Kercher has attacked a US TV network for making a film which recreates her death.
The production contains scenes dramatising the killing of the 21-year-old in Perugia, Italy.
Hayden Panettiere stars as Amanda Knox, who was convicted of the 2007 murder along with her ex-boyfriend Raffaele Sollecito and another man, Rudy Guede.
John Kercher said the scenes were "horrific and distressing."
The film for the US-based Lifetime TV channel is entitled Amanda Knox: Murder on Trial in Italy.
A trailer posted on the channel's website contains split-second scenes recreating Meredith Kercher's murder.
It also dramatises moments from the ensuing trial of fellow students Amanda Knox and Raffaele Sollecito who were accused by the Italian prosecutors of killing her during a "sex game".
The film, which was shot last year in Rome and Perugia, is scheduled to air in its entirety later this month.
Graphic
Mr Kercher does not give radio or TV interviews but in a brief exchange of e-mails he told BBC News that he considered the scenes "graphic" and he found them "horrific and distressing."
The producers are reported not to have spoken to any of the families, instead working from media reports and a 400-page report drawn up by the judge in the case.
All three of the people convicted of Meredith Kercher's killing deny wrongdoing.
Amanda Knox is currently appealing against her 26-year sentence and Raffaele Sollecito is fighting his 25-year term.
Italy's highest criminal court has upheld the conviction of Rudy Guede but his 30-year sentence was cut to 16 years on appeal.