Pakistan cricket trio face corruption charges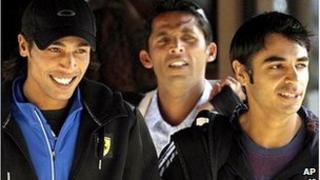 Three Pakistan cricket team members and an agent will face corruption charges, the Crown Prosecution Service has said.
Mohammad Amir, Salman Butt and Mohammad Asif were accused of "spot-fixing" offences in the fourth Test against England at Lord's last August.
The players and their agent Mazhar Majeed will be charged with conspiracy to obtain and accept corrupt payments and also conspiracy to cheat.
They have always denied the accusations of bowling deliberate no-balls.
The International Cricket Council (ICC), which conducted its own investigation as the sport's governing body, is due to present its findings on Saturday.
But the BBC's sports editor, David Bond, reports that the three accused players have asked for the ICC tribunal's decision to be adjourned.
They are arguing, through their solicitors, that any decision from the tribunal would prejudice their criminal case.
Our correspondent says the ICC is likely to oppose that request but that a final decision will be made by the tribunal, which is headed by Michael Beloff QC.
On the criminal matter, the players - who are all from Pakistan - and Mr Majeed, 35, of Oaks Road, Croydon, are due to appear at the City of Westminster Magistrates' Court on 17 March.
'Public interest'
Simon Clements, head of the CPS Special Crime Division, said the charges "relate to allegations that Mr Majeed accepted money from a third party to arrange for the players to bowl no-balls on 26 and 27 August 2010, during Pakistan's fourth Test at Lord's Cricket Ground in London".
He added: "We are satisfied there is sufficient evidence for a realistic prospect of conviction and it is in the public interest to prosecute."
He said summonses had been issued for the three players and they had been asked to return to the UK voluntarily, which they had agreed to do in September last year.
"Their extradition will be sought should they fail to return," Mr Clements added.
'Sad outcome'
Asif's lawyers Addleshaw Goddard said he had co-operated fully with the Met Police.
"Today's decision by the Crown Prosecution Service to formally charge him is a sad and disappointing outcome to that investigation and he will now take some time to consider his response.
"We hope today's announcement will not prejudice the International Cricket Council's own decision, which is expected tomorrow."
Butt, the former Pakistan captain, and both Asif and Amir were provisionally suspended in September after the allegations of corruption surfaced during last year's tour of England.
It was claimed Asif and Amir deliberately bowled no-balls at pre-arranged times during the Test, with Butt also said to be involved, in return for money from a bookmaker's "middle man".
They denied manipulating parts of the game in this way, which is known as "spot-fixing".
The News of the World newspaper, which originally made the allegations against the players, said it would "continue to assist the police with their inquiries".