Egypt protests: Cameron calls for 'orderly' transition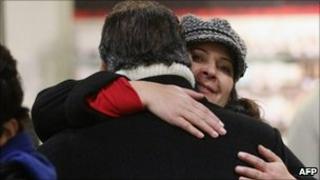 The regime in Egypt must take steps to show there is a "clear, credible, transparent path toward transition", the UK prime minister has warned.
Arriving at an EU summit in Brussels, David Cameron said so far steps taken had not "met the aspirations of the Egyptian people".
He called on European leaders to show they would help an orderly transition.
His comments came as more British nationals prepared to flee the political turmoil in Egypt.
Mr Cameron also warned: "If we see on the streets of Cairo today state sponsored violence or the hiring of thugs to beat up protesters then Egypt and its regime would lose any remaining credibility and support it has in the eyes of the watching world, including Britain."
Flight disrupted
There have been hundreds of deaths and casualties since violence erupted on Wednesday in Cairo's Tahrir Square, where protests calling on President Hosni Mubarak to step aside are expected to continue.
Reports of looting and damage to Egyptian antiquities - the Egyptian museum is sited close to Tahrir Square - have also raised British concerns.
A spokeswomen for the British Museum said it "deplores the reported thefts and destruction which have taken place in Egypt's museums and ancient sites during the current period of unrest".
"The Egyptian Museum in Cairo houses artefacts of unique importance to world heritage.
"It is a matter of the greatest concern that these irreplaceable objects should be fully protected to ensure their safety and survival for future generations," she said.
The Foreign Office is planning to charter another flight, which will leave Cairo on Saturday, afternoon to bring home Britons wanting to leave the north African country.
A spokesman said British nationals who wished to use the service should register with the Foreign Office by calling 020 7008 8765 if they were in the UK or 0020227916000 if they were in Egypt.
There is a charge for using the charter which is approximately £300.
Some 161 Britons landed at Gatwick airport on a Foreign Office-chartered Boeing 757 at 2210 GMT on Thursday.
The Foreign and Commonwealth Office (FCO) flight was arranged by charter specialist Air Partner which is the freight and passenger service provider for the UK's Department for International Development.
The firm has ferried about 2,800 people out of Egypt since Sunday to places such as the UK, Germany, France, Bahrain and Dubai.
The flights are in addition to existing commercial services back to the UK.
Thursday's departure of Flight AEU764, with the British nationals on board, was delayed by disrupted air operations as thousands of opponents and supporters of President Hosni Mubarak clashed in the Egyptian capital.
After arriving at the West Sussex airport, Shukria Ahmed-Nur said: "There were men with samurai swords, machetes and other weapons.
"They were outside our apartments, walking up and down the stairs, which was really scary.
"I was frightened because it was just me and my two brothers. We were just hoping we would get out alive. I feel ecstatic to be here."
Mother-of-two Jala Ibrahim, 33, from Fulham, west London, described the situation as like a "war zone".
"The country is in a really bad state at the moment," she said.
Ms Ibrahim returned with her two daughters, aged nine and five, but had to leave her Egyptian husband Osama behind.
'Gun battles'
Robert Mant, 34, who lives in Cairo with his 33-year-old Egyptian wife Kariman, was another Briton to depart the country.
He said: "There are gun battles between prisoners in the streets. I got hit by a rock. It's disgusting, it's a disgrace what is happening."
Stephanie Harkin, 25, from Luton, Bedfordshire, returned to the UK with her husband Amr El Hakim and their eight-month-old daughter.
Ms Harkin reported a similar problem with escaped prisoners and said her family slept with knives at their sides.
She said: "Across the road on the next compound there were reports that seven people had been killed and that neighbours had been attacked by thieves."
Major demonstrations
The Foreign Office is advising against all but essential travel to Cairo, Alexandria, Luxor and Suez.
It says further major nationwide demonstrations will take place on Friday and a general strike has been called for Sunday.
The advice continues: "Previous mass demonstrations have been characterised by violence, including the use of tear gas, water cannon, rubber bullets and live ammunition.
"All demonstrations and/or large crowds should be avoided. We advise all British nationals unable to leave to stay indoors wherever possible."
Journalists, including BBC staff, have been attacked while trying to report on the situation in Egypt.
President Mubarak, who has ruled Egypt for 30 years, has said he will step down - but only after presidential elections in September. Anti-Mubarak protesters want him to go immediately.
Unrest has left about 300 people dead across the country over the past 10 days, according to UN estimates.