Newspaper review: Fury over Egypt 'intimidation'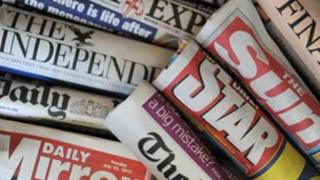 The Times is furious about what it says is a campaign of intimidation and violence towards foreign journalists and human rights workers in Cairo.
As well as trying to quell the pro-democracy demonstrations the Egyptian government "does not want the world to witness its actions", it concludes.
The Daily Mirror's reporter, Alun Palmer, describes how he was beaten up.
He says it began outside a hospital in Cairo where he had gone to try to find out how many people had been wounded.
Snub denied
There is anger, too, in the Daily Mail, Daily Star and Daily Express.
It is about two Birmingham councillors who refused to join a standing ovation for a Royal Marine awarded the George Cross for his bravery in Afghanistan.
Respect Party councillors Mohammed Ishtiaq and Salma Yaqoob explain that their intention was not to snub L/Cpl Matthew Croucher.
But it was their aim to express opposition to the deployment of UK troops in Afghanistan, they say.
'Game changer'
The Financial Times examines the case of the Portsmouth pub landlady who used a Greek satellite receiver to show Premier League football in her bar.
Karen Murphy was fined for breaching copyright law, but appealed to the European Court of Justice, which has now been advised to find in her favour.
The FT calls it a "game changer".
One expert says subscriptions charged by broadcasters will plummet - which in turn will have a "colossal impact" on the fees paid to football clubs.
'Morons' return
The Independent and the Sun both herald the imminent return of cult TV cartoon series Beavis and Butt-Head.
Broadcaster MTV has apparently decided to bring back the pair of smirking heavy metal fans.
They were last seen in 1996, after 200 episodes of what the Independent calls "giggling and scatological jokes".
Show creator Mike Judge has apparently written 30 new episodes to be screened in the summer. The Sun calls it simply "return of the TV morons".