British people top immigration anxiety table - survey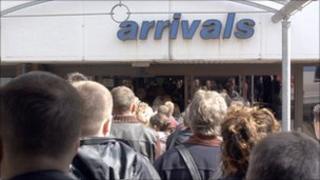 Britons are the most anxious about immigrants, an international survey of eight European and North American countries has suggested.
The Transatlantic Trends poll of about 1,000 people in each country found 23% of British people thought immigration was the country's biggest problem.
This compared with 10% or less in other countries surveyed.
The Home Office said ministers were "in the process of delivering major reform to bring immigration down".
Five of the other nations surveyed had a greater proportion of foreign people in their populations than the UK.
The survey, commissioned by the German Marshall Fund (GMF) in the US, involved the United States, Canada, the UK, France, Germany, Italy, the Netherlands and Spain.
According to the research 59% of Britons believed there were "too many" immigrants, easily the highest proportion in the survey.
In Germany and the Netherlands, both countries with a higher level of foreign-born residents, the figure was 27%.
British respondents were the most likely to say immigrants were a burden - about a quarter of UK respondents did not think even legal migrants should be allowed to access the NHS or state schools.
In other European countries the figure ranged between 1% and 5%.
The British were also the most likely to say that immigrants took jobs from native-born workers.
However, nearly three quarters thought the government should allow more foreign doctors and nurses into the UK and just over half wanted more foreign care workers for the elderly.
Seven out of 10 people in the UK said their government was doing a poor job in managing immigration - this was behind only the US (73%).
GMF president Craig Kennedy said the survey was a "wake-up" call for governments.
"The survey shows that North Americans and Europeans have strong opinions about immigration policy, what works, and what doesn't," he said.
'Uncontrolled immigration'
"But the survey also shows that the more one is exposed to immigrants, the more one feels positively toward them."
Immigration Minister Damian Green said he was "not surprised that people are sceptical" after what he called "a decade of uncontrolled immigration" under the Labour government.
He said: "It is important that this country has an immigration system that the public has confidence in, that does not put undue strain on vital public services and that is more selective about who we let in.
"That is why we are in the process of delivering major reform to bring immigration down to the tens of thousands with the introduction of a new limit on economic migrants from outside the EU, alongside new proposals to reform other routes of entry, including students, families and marriage."