Cyclist death and injury rate rising, figures show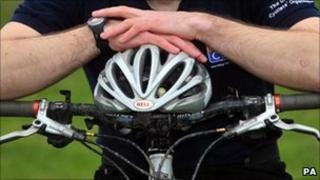 The number of deaths and injuries of cyclists is rising at a "worrying rate", a safety charity has warned.
Government figures for Britain showed a 3% rise in casualties to 17,430 in the year to September 2010, compared with the previous 12 months.
However, overall road safety improved, with fatalities at a record low.
The Parliamentary Advisory Council for Transport Safety said the general fall was good news but the cycling death and injury rate was a worry.
Robert Gifford, the charity's director, said: "We need to know why this is the case and what we can do to make cycling safer."
Chris Peck, policy officer at CTC (formerly the Cyclists' Touring Club), a UK-wide cyclists' organisation, said: "While the increase in cycle casualties might look worrying, the risk to each individual may still be lower than before, when you consider the increase in the number of cyclists."
Department for Transport figures show bicycle traffic was up 4% from 2008 to 2009.
Mr Peck added: "It's worth noting that casualties are down 29% against government targets.
"But since neither pedestrian nor cyclist casualties are falling as fast as motorist casualties, we need to do more to tackle bad driving and improve conditions for the road users outside cars."
The provisional figures, released by the Department for Transport, showed:
The total number of cyclists killed or seriously injured has risen 10% since the year ending September 2007 to 2,770
The total number of road casualties was down by 3% in the year to September 2010, compared with the previous 12 months, to 215,000
The number killed or seriously injured was down by 8% in the same period to 25,250. Of those, fatalities were down 21% to 1,900 in the same period - a record low
Pedestrian, motorcycle and car user casualties fell by 3%, 8% and 4% respectively
The total number of child road casualties fell by 5% to 19,980, with those killed or seriously injured also falling by 5% to 2,580
AA president Edmund King said fuel prices had changed driving habits, leading to a greater take-up of cycling and more accidents.
"These trends need to be countered and the country's road safety effort has to prepare for better times when more people drive."