Newspaper review: Egypt violence dominates papers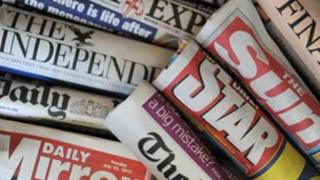 The violence in Egypt is reported on most front pages - and is the lead for the Guardian and the Independent.
The Guardian says there was a co-ordinated bid by Hosni Mubarak's regime to wrest back control of the streets, crush the popular uprising and reassert its authority over the country.
It has the headline "The battle for Egypt".
For Robert Fisk in the Independent this was as close to civil war as Egypt has come.
City 'battlefield'
The Financial Times describes Cairo as a city at war.
Tahrir Square is a battlefield between supporters of President Mubarak and protesters, the FT continues.
And the apparent decision to use violence against the demonstrators suggests the regime has reached the end of the political concessions it is prepared to make, the paper adds.
The Daily Telegraph says the army is in the difficult position of trying to get order without being seen to take sides.
Prison 'shop'
The main story for the Times is that the most senior family judge in England and Wales has said unmarried couples should get new rights to share property and money if they split up.
The Daily Mail's lead says lawyers have set up shop in dozens of prisons to encourage inmates to claim compensation for not having the right to vote.
The Daily Mirror reports that Stephen Griffiths - the so-called Crossbow Cannibal serving three life sentences for murder - is being questioned about the disappearance of seven more women.
Perfect condition
A retired factory worker who took an old vase to a Dorset auction house in a cardboard box is in line for a bonanza of £1m after being told the item was a Ming moonflask.
According to the Guardian, the auctioneers found the vase in perfect condition.
Experts were amazed it had survived unscathed for almost 600 years.
The Daily Express says the lucky owner is a 79-year-old man who used to work for Cadbury.