Egypt: 200 Britons opt for chartered flight departure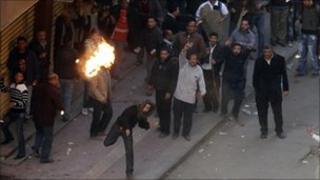 More than 200 people want a seat on a Foreign Office-chartered flight from Cairo to London, the government says.
The flight will depart on Thursday afternoon, although the exact time is undecided as airport operations remain disrupted amid national protests over President Hosni Mubarak, the FCO said.
It said it did not want to undercut airlines and was charging £300 a seat.
Prime Minister David Cameron has called on the violence to stop and for Egypt to make a rapid move to democracy.
The 220-seat chartered flight, which left Gatwick about midday on Wednesday, is for extra capacity to allow Britons to leave Egypt.
However, it was not intended to replace commercial flights, and people with booked seats on other flights are advised not to cancel their bookings.
The Foreign Office said: "Over 200 people have expressed an interest in the existing flight. We are keeping the possibility of a further charter flight under review."
Downing Street earlier defended the ticket price, saying the government did not want to undermine commercial flights.
"It's very important that we maintain commercial flights in and out of Egypt, so we don't want to be in a position where we are providing flights at no cost, because that would undercut commercial airlines," a spokesman said.
The FCO travel advice has remained the same since the weekend, with Britons warned to obey the curfew in place across Egypt between 1700 and 0800 local time.
Non-essential travel to Cairo, Alexandria, Suez and Luxor was not advised.
After nine days of protests in Cairo and other cities, violence flared in central Cairo's Tahrir Square on Wednesday between supporters and opponents of President Mubarak.
On Tuesday President Mubarak announced that he would not stand as a candidate in the September elections, ending his 30-year rule, but public pressure continues on him to step aside immediately.
About 3,000 Britons were in the capital, and 300 in Alexandria, while 30,000 were in Red Sea resorts which remained "calm", Mr Cameron told MPs.
Speaking at noon on Wednesday, he said 1,000 Britons had left the country in the previous 48 hours.
Appearing outside Downing Street with United Nations Secretary General Ban Ki-moon as clashes erupted in Cairo's Tahrir Square, Mr Cameron said: "We have been watching the events in Cairo with grave concern and completely condemn the violence that is taking place.
"If it turns out that the regime in any way has been sponsoring or tolerating this violence, that would be completely and utterly unacceptable.
"These are despicable scenes we are seeing and they should not be repeated."
Echoing comments he made in the House of Commons earlier on Wednesday, he said: "They underline the need for political reform, and frankly, for that political reform to be accelerated and to happen quickly.
"We need to see a clear road map for that political reform so that people in Egypt can have confidence that their aspirations for a more democratic future with greater rights is met."