7/7 inquests: Bomber 'had calls from Pakistan'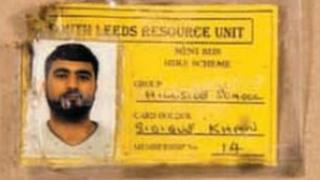 The ringleader of the 7/7 attacks received bomb-making guidance in phone calls from Pakistan in the days before, the inquests have heard.
Mobile phone records analysed after the bombings on 7 July 2005 showed calls made from phone boxes in Rawalpindi to bomber Mohammad Sidique Khan.
Det Sgt Mark Stuart, of the Met Police, said he thought these calls had to be related to the bombings.
Four suicide bombers targeted three Tube trains and a bus, killing 52.
Det Sgt Stuart said one of the calls was made on 2 July, five days before the deadly bombings, and lasted six minutes.
Hugo Keith QC, counsel to the inquests, asked: "Did you assess that those calls therefore were probably connected to some guidance or some means of communicating information concerned with the manufacture of the bombs and then ultimately their detonation?"
Det Sgt Stuart said: "Yes, I think they had to be."
Many of the phone calls were made from different phone boxes within minutes of each other, suggesting the caller was intent on concealing their identity, heard the inquests at the Royal Courts of Justice in London.
"I think these call boxes [were] actually [in] shops where there might be a number of people waiting to use them so he may have moved on for that reason," Det Sgt Stuart said.
Police believe Khan gave the Pakistan contacts the numbers for four phones, used solely in relation to the bombings plot. He never made any calls to Pakistan himself.
The majority of the phone conversations took place between May and June 2005.
The inquests were told that the last call to Khan was recorded on the afternoon of 7 July, when the attacks had been "brought to worldwide attention".
'Aggressive investigation'
Having examined each of the bombings in turn, the hearings have now shifted their focus to wider issues surrounding the attacks.
Mr Keith suggested one possible question for examination was whether the authorities - particularly the Security Service, MI5 - might have done more to identify Khan and the threat he posed.
Prior to the 7/7 attacks, Khan had been spotted by authorities carrying out surveillance of suspected terrorist plotters - but he was considered a peripheral figure and never identified.
Addressing coroner Lady Justice Hallett, Mr Keith said: "One issue that my Lady may need to explore, in particular with the Security Service, is whether it is fair to say that the threads of Mohammad Sidique Khan's graduation from an associate of terrorists to prime conspirator and murderer were in fact there to see.
"Was it simply a question of tying threads together?
"And that process, the process of tying those threads together, should, it may be argued, be carried out, not only as part of an investigation into those who may already have formed their plans, but also by aggressive investigation of those who may be in the process of radicalisation."
People on the edge of an established plot should perhaps have been considered a potential threat themselves, their activities "critical to identify the next possible attack", he said.
But he added there was "nothing to suggest" the authorities had "any inkling of what was to befall London on July 7, 2005".
"It would be nonsensical and insulting to the dedicated people and individuals and bodies who protect our national security to suggest otherwise."