The rear gunner who lived to tell the tale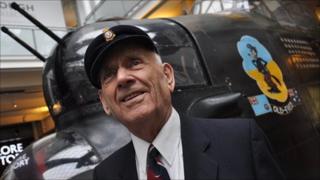 A man who survived 60 missions as a Lancaster rear gunner during World War II might be forgiven for trying to forget his wartime experiences.
But John Hall, 89, of Sunderland, is doing exactly the opposite - drawing on his time as a "tail-end Charlie" in missions over wartime Europe to mentor former members of the UK's armed forces who have recently left the military and are struggling to cope with civilian life.
He has been attending group sessions in Sunderland for such ex-servicemen that are run by Forces for Good, a project that is part of the About Turn charity. Based in the north-east of England, the charity aims to help ex-service personnel and their families.
These sessions are for those former members of the nation's armed forces struggling to re-adjust to civilian life, who are either experiencing difficulties with finding work, coping with combat-induced stress or homelessness.
"I talk to them and try and find out their story first, find out what's troubling them," he said.
"I try to show them that they have got friends, that they're not alone. I try to give them confidence to carry on, rather than sit back and let it all happen."
Mr Hall, who was awarded the Distinguished Flying Cross by King George VI in 1943, has also given presentations to group members who have served in Northern Ireland, the Falkland Islands, Bosnia, Sierra Leone, the first Gulf War, Iraq and Afghanistan.
During these lectures he talks about his own wartime experiences, how he managed to deal with Post Traumatic Stress Disorder (PTSD) and adapt to civilian life after leaving the services.
About Turn says Mr Hall's "wisdom and enthusiasm" helps to encourage those recently out of the military to get their lives back on track, by using examples from his own heroic wartime past.
'Flak happy'
In 2008 the National Association of Probation Officers suggested that up to 8,500 veterans are currently in prison and another 3,000 are on parole - although the Ministry of Defence disputes this, saying its latest figures show there are 2,820 veterans in prison.
Many veterans will have suffered from PTSD, and when asked if he experienced this himself, Mr Hall says how his wartime missions left him "a bit flak happy" - he raises his hands and shakes them.
"You also had nightmares, but after 12 months you got yourself hardened to it. But you had to stick it out or else you were labelled a coward," he added.
Mr Hall had every reason to suffer nightmares. Estimates for the life expectancy for a WWII Lancaster rear gunner vary but are never high, mostly about just five sorties.
His remarkable figure of 60 missions included being shot down twice into the Channel, the first time seeing him and his crew spending about four days in a dinghy.
They were picked up off the Isles of Scilly, apparently only minutes away from heading out into the Atlantic Ocean where they would probably have been lost forever.
Royal appointment
The end of this particular story reveals plenty about how stress was combated in the 1940s.
"Shortly after we got back our commanding officer Guy Gibson told us to get into a Lancaster and go fly around for a couple of hours. We couldn't work out why he'd told us to do this, but he later said he wanted to keep our confidence up and it worked."
Wing Commander Gibson later became famous for leading the legendary Dam Busters raid in 1943.
As a result of his own wartime heroics, Mr Hall's DFC medal was pinned on his chest by King George VI, who showed signs of his famous stammer.
"He spoke to me afterwards and stammered a bit. When he got stuck on a word, I'd say 'Oh yes sir, I know exactly what you mean' to save him embarrassment and he looked quite grateful for that."
Remarkably, Mr Hall does not know what he was given his medal for, only that it was "For Valour", because he never saw his citation.
One of the crucial factors, he says, in keeping his own spirits up after the war ended was the fact that his old job, working in the paper-making trade, was kept open after the war ended.
This meant he had employment and therefore structure to return to once he was out of the regimented life of the military.
He also volunteered with the Air Training Corps, training future pilots, until his retirement in 1982.
"Having that bit of security, knowing there's a job waiting for you when you come out, makes a difference.
"I get the impression now that they come out the armed forces with this trauma, they're given a bit of a talk and that's it. They are lacking in advice and help.
"And the story I've had from one or two is that when they've tried to get a job, they're asked what they've been doing of late, as if all their time in the military doesn't count for much.
"When a bloke's time is coming up he should be put on certain courses for retraining back into Civvy Street. For the last three months of service they should train you as a plumber or electrician, something they can use in civilian life."
Veteran aid
The MoD said all those leaving military service have access to the Regular Forces Employment Association and the Officers Association, charitable organisations that help service leavers with job finding.
Those who served six years or more, and all those medically discharged regardless of how long they have served, are entitled to the full resettlement programme, to help re-adjust to civilian life; those who served between four and six years qualify for the employment support programme, a tailored job-finding service.
And those who have served less than four years are interviewed and signposted to the various welfare entitlements and other support offered by the government, ex-services charities and the voluntary sector.
Tony Wright, of About Turn, said Mr Hall sets the standard at the group sessions he attends by always being punctual and well dressed, and is "idolised" by those he meets there.
He added: "John's wisdom and experience bring a great deal to the sessions and whilst he views the younger soldiers of today as heroes, they in turn idolise him and are astounded by the fact he was involved in so many bombing raids and was shot down on two occasions.
"John is an inspirational character and his input is a crucial element of our work. He could be sat at home isolated and thinking his role and contribution to society was over.
"However, he has proved that he and many others like him could be playing a huge role in supporting and helping young combat veterans when they return to the community."