Egypt protests: Many Britons 'managing to leave'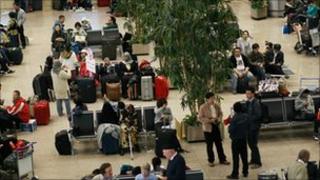 The majority of Britons who wanted to leave Egypt amid widespread protests have managed to depart, Foreign Office minister Alistair Burt has told MPs.
But he added that about 30 Britons would have to spend a night at Cairo airport before boarding flights.
Difficulties at the airport had eased but flight disruption was continuing, he warned.
The Foreign Office has warned against all non-essential travel to Cairo, Alexandria, Suez and Luxor.
It also recommended that British nationals without a "pressing need" to be in Cairo, Alexandria or Suez should leave.
British nationals in Luxor were advised to stay indoors.
An estimated 100 people have been killed during the past week during protests against the 30-year rule of President Hosni Mubarak.
Tens of thousands of Egyptians gathered in Cairo again on Monday, with a general strike and huge march planned on Tuesday.
Thousands of people have also rallied in Alexandria, and there have been sizeable demonstrations in Mansoura, Damanhour and Suez.
Mr Burt said that throughout the protests, the safety of Britons was important, and Britain was also keen to "support Egypt in making a stable transition to a more open democratic society".
The minister said there were an estimated 20,000 British tourists in Egypt, the majority of them in the Red Sea resort of Sharm el-Sheikh, which he described as being "calm".
Another 10,000 Britons are thought to be living or working in Egypt.
He added: "The situation in Egypt is still very uncertain. The safety of our citizens is our top priority and we are putting in place contingency plans to ensure that we are prepared for all eventualities."
A curfew is in force between 1500 and 0800 local time, although correspondents report that it is being widely ignored.
Egypt Air said it was cancelling all domestic and international flights between the curfew hours.
Mr Burt said Cairo airport had been "operating under considerable difficulties" but had improved, and consular staff were working "round the clock" to support Britons there.
"The situation also seems to be improving in Alexandria, with road access to the airport now secure," he said.
'Forgotten by Britain'
Semi-retired couple Bob Gooderick, 61, and his wife Carol, 62, from Oxford, had spent a night on a piece of cardboard on the floor of Cairo airport after their BMI flight was cancelled on Saturday.
They then spent Sunday night at a hotel, and arrived back in the UK on Monday.
Mr Gooderick described the journey from the hotel to the airport as "very frightening".
"We had to pass through several road blocks to get back to the airport. Locals had created barricades to protect their patches and they were armed with makeshift weapons.
"When we got to the airport we were searched by military. We are very relieved to be back."
Another Briton, Di Gardiner, 65, said she was frustrated by the lack of information available for tourists.
Mrs Gardiner had been on a cruise with a friend which ended in Aswan. The pair got an internal flight to Cairo, hoping to catch a flight home on Saturday, but said there was no information available to them at the airport.
"There was nobody there to meet us. Everybody just abandoned us and we did not know what to do," she said.
"We slept in the airport overnight on the concrete floor. It was just mayhem. We came out of this unscathed but it was very frightening."
Americans and Turkish people were being helped by their embassy officials, "but it was like Britain forgot us," Mrs Gardiner said.
"William Hague said to go to the airport and to get flights but there were not any."
'Still holidaying'
Prime Minister David Cameron said: "I have spoken to President Mubarak and had a conversation with President Obama last night, and we were very much agreed that we want the response of the Egyptian government to be that there needs to be a proper orderly transition to a more democratic situation, where there are greater rights, greater freedoms, better rule of law and that sort of reform - to show to people in Egypt that their concerns and their aspirations are being listened to."
Foreign Office staff at Alexandria, Luxor and Sharm el-Sheikh were giving British citizens updates on the latest situation and staying in touch with tour operators, he said.
Thomson and First Choice spokesman Christian Cull said an empty plane was being flown from the UK to Egypt to bring back customers from Aswan who were scheduled to return anyway.
"There's no point in flying people over there as restrictions on the Nile mean their cruise holidays wouldn't go quite as planned," he told BBC News.
"The bulk of our customers are holidaymakers... and wherever they are, they are safe and sound."
He added: "Sharm el-Sheik is still holidaying."
The BBC's Jon Leyne, arriving at Cairo airport from the UK, said his flight was almost empty but there were thousands of people trying to leave.