27 out of 13,000 police officers 'positive for drugs'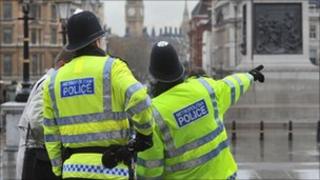 Out of 13,157 police officers tested for illegal drugs in the past two years, just 27 were positive, according to Jane's Police Review magazine.
The Metropolitan Police carried out the most tests, 2,154, and recorded the most positives, 11. Drugs detected included cannabis and cocaine.
Most were subject to random tests, although a small number were targeted following tip-offs.
Police chiefs say officers are disciplined if caught taking drugs.
The lead officer on counter-corruption with the Association of Chief Police Officers, Mike Cunningham, said: "Where any officer is found to have taken drugs they may face disciplinary and criminal proceedings."
One Pc in Kent resigned on the day of their test, the magazine reported.
'With cause'
During the period between September 2008 and September 2010, nine of the police forces who carried out tests reported at least one positive result.
At the Met - by far the largest force in the UK - 20 officers were tested "with cause" - following intelligence indicating possible substance misuse.
Of those 20, 11 tested positive.
The remaining 2,134 officers tested at the Met were chosen randomly - and of those, only one tested positive, for cocaine.
Only certain types of police officer can be subjected to random tests. These include those who use firearms and those who may be required to drive above the speed limit during the course of their duties.
Greater Manchester Police tested 1,164, the majority without cause, officers and found that none were positive.
Surrey Police carried out the second highest number of random tests after the Met - a total of 1,315 - and again none were positive.
South Wales, Tayside and the Police Service of Northern Ireland all recorded three positive tests, two were reported in Humberside and Devon and Cornwall, and one each in Avon and Somerset, Merseyside and South Yorkshire.
Eight UK forces did not test any officers during the period - Bedfordshire, Central Scotland, City of London, Dumfries and Galloway, Gwent, Northern, Strathclyde, Sussex.
Graham Cassidy, secretary of the Superintendents' Association, said forgoing tests would have a negative impact on public confidence in policing.
"For the public to have doubts that officers are not drug free because a force was not doing tests would be unfortunate."
Tasers
The Met said officers who had tested positively were no longer employed by the force.
Pete Smyth, chairman of the Met Police Federation, said there was a "very small" issue with drugs within the Met.
Following a review of the testing last year, the eligibility could be widened to included officers who deal with explosives or Tasers, or who carry out any kind of driving.
Chief Constable Mike Cunningham, the Association of Chief Police Officers' lead on counter corruption, said: "Where any officer is found to have taken drugs they may face disciplinary and criminal proceedings."
Steve Smith, deputy general secretary of the Police Federation of England and Wales, said he believed all new police applicants should be tested for drugs and those who fail should not be offered a job.
"That will stop anybody who may have a drug problem from coming in and it would also ensure that police officers are clean from day one," he said.