Newspaper review: Egypt unrest still making headlines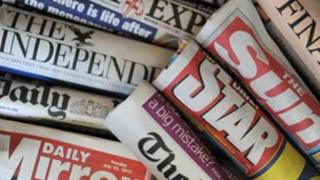 The anti-government protests on the streets of Egypt continue to enthral the papers.
There is a recognition that the outcome of this story will depend on the force that has kept President Hosni Mubarak in power for so long.
As the Guardian puts it, "a battle is being waged for the army's hearts".
The Independent's hopes are vested in a process that would see Mr Mubarak relinquish power, while the people maintain their trust in the military.
Winter break
The Times agrees there is "only one force" that can restrain "the forces of anarchy" which have been unleashed.
It thinks, by Sunday, the Army had in effect already "carried out a coup".
The Daily Express' focus is on the plight of the thousands of Britons who wound up in the middle of a revolution.
A "relaxing winter break", says the Daily Mail, had "turned into a terrifying ordeal" - some "cowered in their hotel rooms" while others "slept on the stone floor of the airport".
Taxing calculations
The Sun is more concerned by the prospect of anarchy in London.
It reports that "hate-filled" extremists are plotting a month-long campaign to disrupt the royal wedding of Prince William and Kate Middleton.
The papers have different calculations for the number of people who will pay more tax from April.
The Independent says 850,000 and it believes "tube drivers, senior nurses and teachers" will be dragged into the 40% tax rate.
Pipe down
Households can expect "record amounts of junk mail", says the Daily Mail.
The paper blames Royal Mail for striving to boost its income by encouraging more businesses to promote themselves with unsolicited post.
The Daily Telegraph backs a plea from the Master of the Queen's Music, Sir Peter Maxwell Davies, to ban the playing of muzak in public places.
He says he fled a bookshop in London where "rubbish" was being played "in the name of background music".