Egypt protests: British experiences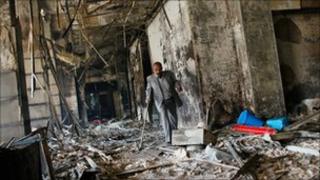 British nationals in Cairo, Alexandria and Suez are being told to leave if it is safe for them to do so, following days of violent protests across Egypt.
Most of the UK tourists in Egypt - up to 30,000 - are in resorts like Sharm El Sheikh, which the British Foreign Office says are safe.
Officials are warning against all non-essential travel to Cairo, Alexandria, Luxor and Suez, and say that anyone "without a pressing need" to be in those cities, excluding Luxor, should leave if it is safe for them to do so.
BBC website readers in Egypt have been describing their situation.
Rosemary Turberville, Cairo
Here in my suburb of Cairo there were gunshots throughout the night and there was lots of activity. There is no internet at the moment, because of a security clampdown. The demonstrators are very peaceful and their message is that they do not want Mubarak anymore.
The prisoners have been set free by the Ministry of Interior and they are the ones who have been looting and running riot. It is tragic as the people here are not like that. I live on the tenth floor and I can see people wandering around down below with shopping bags.
I have plenty of supplies and I don't need to go out, so I am staying put for now.
Angela, Maadi, Cairo
We've just had to leave the airport in Cairo as the ticketing system is down. We were booked onto a flight to Bahrain this afternoon but we couldn't get into the airport. We have an 18 month old baby boy and four year old boy.
The Foreign and Commonwealth consular staff are inside the terminals, so we couldn't talk to them to get advice on what to do. We have returned home to Maadi, where we have lived for five years.
It is peaceful here now but last night our friends stayed with us as they were too scared to stay in their home.
Our friend in Britain has been repeatedly calling the FCO on our behalf - their only advice is 'lock yourselves in and try the airport again tomorrow'. We are booked onto a BA flight tomorrow, so we hope we can get on that.
Myself and my husband are both British citizens, though I am half Canadian and have dual nationality. Although we are registered with both embassies, neither has been in touch - the only help we've had has been relayed by friends in Canada and here in the UK.
I am really upset that the FCO is not helping us more - they are advising British citizens to get flights out of Egypt, but we can't get on the flights! Why aren't they doing more?
Jen, Cairo
We are safe but it's really scary. All the men have knives and wooden or metal poles, they are here to protect this area. We stayed awake all night waiting for a mob that got out of jail - we heard it was heading towards our neighbourhood.
My husband's mother and aunt are also very scared. The looters came to their area last night - my husband went out to check on them. I was terrified waiting for him to come back.
Our part of the city is a very poor one, with very few western residents. I am afraid that looters will think we have money because I am western and target us. I am staying inside and only venturing out occasionally, keeping covered up.
We only felt safe enough to sleep after morning prayers. Outside in the streets our neighbours are sleeping on carpets outside their homes, ready to protect them if necessary.
I want people to know how scary it feels without the police. Last night on his way home from work my husband saw people being stabbed in the streets. Some of his childhood friends have been attacked whilst defending their homes and are now in hospital.
We are watching the British news channels because we don't trust the information on Egyptian TV. We are dreading tonight and don't know how long this situation will continue. The roads are very poor in this area and we are afraid the army will struggle to bring order here.
Edward Jennings, Luxor
In Luxor it is calm. We are currently in the garden of the Winter Palace Hotel meeting friends. The only problem we are experiencing is that the banks are closed and no one can get any money.
The protests are against the government and the protesters have nothing against foreigners so we feel safe. Everyone in Luxor relies on the tourist industry and we are well looked after.
A procession of protesters came down our street yesterday but they weren't violent, just boisterous. Later on in the evening my wife and I went out for a ride on a horse drawn carriage.
A gang of youths smashed up the windows of a new library in the centre. Then we heard the bang, bang of police fire and tear gas. It was just young kids with nothing to do, out to cause trouble - a chance for some excitement and to run riot. That's the limit of aggressive behaviour.
We have lived in Luxor for the past four years - we moved from Windynook, Newcastle. Luxor is a lovely place steeped in history. Tourists visiting now have nothing to fear and they are experiencing no problems. Everything in calm.