Former MP George Galloway 'offered payout over hacking'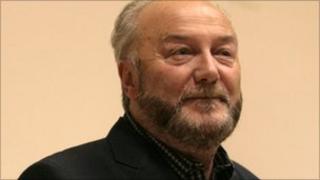 Former MP George Galloway has told the BBC he is being offered "substantial sums of money" by the News of the World after his phone was allegedly hacked.
He said police told him they had evidence he was targeted by a private investigator working for the paper who was jailed for hacking in 2007.
Mr Galloway is now taking legal action for breach of privacy.
A News of the World spokeswoman would not comment on his claim he had been offered money ahead of a court date.
In 2007, the paper's royal editor, Clive Goodman, and a private investigator, Glenn Mulcaire, were jailed for intercepting the voicemails of royal aides.
Last week, the Metropolitan Police launched a fresh investigation into phone-hacking after receiving what it called "significant new information".
The force has been accused by a number of public figures - including former deputy prime minister Lord Prescott - of failing to carry out thorough inquiries in the past.
Court date
But speaking to The Politics Show, Mr Galloway, former Respect MP for Bethnal Green and Bow, said: "The police were exemplary in their conduct of my case.
"A very senior officer came to my then office in Parliament and told me that in the raid on Glenn Mulcaire's premises, they had found evidence which suggested he had been hacking my telephone.
"I began a civil action for breach of privacy. I have a court date some months hence.
"The News of the World are busily offering me substantial sums of money."
Despite his praise for the Met Police, Mr Galloway said there did seem to be "questions that need answering" about the investigation.
"It's odd, for example, that they came to my office to tell me, but walked past the office of the deputy prime minister of the day and a minister, Chris Bryant, without telling them," he said.
"There seem to be questions about why they sat on evidence but did not pursue it, and did not pursue additional evidence which the News of the World have now handed to them."
In September 2010, when he first launched his legal action, the News of the World said it had "absolutely no knowledge or evidence that Mr Galloway's voicemail was accessed".
A number of public figures are taking action against the newspaper over allegations that their phones were hacked.
At the time of Goodman and Mulcaire's conviction, the paper's editor, Andy Coulson, resigned, although he said he had no idea that phone hacking had been going on.
Mr Coulson subsequently became David Cameron's chief of communications, but resigned from that post earlier this month, saying the media storm surrounding ongoing hacking claims had prevented him from doing the job properly.