Patrolling Manchester's gang flashpoints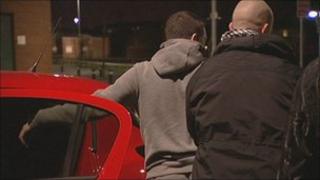 Certain streets in Manchester are seen as flashpoints for gang violence and in recent months there have been concerns about raised tensions.
In an attempt to keep those areas calm Greater Manchester Police (GMP) is making sure officers from Xcalibre are a visible presence.
Xcalibre is GMP's specialist unit tackling gun and gang-related crime.
The walls of its office are covered in mugshots of suspects, grouped together under the names of their gangs - the Rusholme Cripz, the Fallowfield Mad Dogs and the Moss Side Bloods, among others.
"We've had a number of incidents where we have had tit-for-tat fights," says Det Sgt Robert Cousen.
"One gang will go into opposing territory. That then sets up tensions because the opposing gang will want some form of retribution.
"That's why we have Operation Cougar going on at the moment - to make sure those tensions don't get out of hand."
Preventing violence
He and his officers drive around in unmarked cars keeping close watch on places where they know gang members meet - deliberately stopping to speak to many of them.
Their aim is not only to find people responsible for causing trouble but stopping any from occurring in the first place.
In Greater Manchester there are obvious reminders of the problem.
In Moss Side a window shattered by a bullet. In Wythenshawe flowers at the side of the road for a murder victim.
From today police forces in England and Wales have a new weapon designed to prevent gang-related violence.
Gang injunctions are very similar to Asbos - so much so that some have already nicknamed them "Gangbos".
Like anti-social behaviour orders, they are a civil tool requiring a much lower standard of proof than a criminal conviction, but breaching them could lead to a fine or even jail.
The court can use an injunction to stop people from doing a wide range of things - from wearing gang-associated colours to associating with other known members.
In practice Asbos have been used in exactly the same way.
'It will never stop'
In Hulme, just outside the city centre, I met Callum who was given an Asbo after he got into a fight with someone involved in a gang.
The conditions of the order prevent him from going to certain areas, covering his face or meeting some of his friends.
"I am not a gang member but I do chill with gang members", says the 17-year-old, who is cynical about whether the new injunctions will have any effect.
"One gang hates another gang - they just don't get on.
"It will never stop... unless they all go to jail. That is the only way of tackling it."
The injunctions are being introduced on the day Giuseppe Gregory would have turned 18.
He was killed two years ago in a gang-related shooting.
His father James has now set up a campaign group called Fathers Against Violence.
He believes the new legislation will have a limited effect and that the government needs to address the root causes of gang culture.
"There are social issues which we face in communities across Manchester and you can be drawn into a certain way of living," James Gregory insists.
"For many in gang life there is no exit strategy. When you are in it, you are in it."
Badge of honour
The government argues the crucial difference between gang injunctions and Asbos is that they do not just stop someone from doing something.
They can also require them to take part in rehabilitation programmes.
However, there are campaigners worried that injunctions will be seen as a proof of gang membership - just as Asbos were viewed by some as a badge of honour.
"When we've gone into schools, including junior schools, and asked if anyone is in a gang they all put their hands up," says Patsy McKie of Mothers Against Violence.
"We are finding that children aged eight and nine are talking about gangs and saying they are in gangs.
"I think that is what we need to be looking at - why would children want to be in a gang?"
A sign of that concern may be reflected in the government's plans.
Initially gang injunctions are only for suspected members aged 18 or over.
In the spring there are plans for a pilot scheme that would see the injunctions served against youths as young as 14.