Paper review: Egypt protests and pressure on Mubarak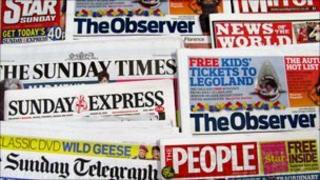 The papers reflect on the ongoing protests in Egypt and the pressure on President Hosni Mubarak.
For the FSunday Telegraph the full horror of Egypt's political convulsions is only now becoming apparent.
It describes scenes of high emotion at the country's morgues, with wailing families demanding the bodies of those killed in the clashes.
For the Independent on Sunday, the world is witnessing the "death throes of a dictatorship."".
Wrong man
The Observer lambasts President Mubarak for his message that without him there would be chaos.
The chaos has come anyway, says the paper, so he should go and President Obama, David Cameron and EU leaders should tell him so.
International relations expert Professor Mark Almond issues a warning in the Sunday Mirror.
He says a revolution could empower the wrong man, pointing to the appointment of Omar Suleiman as vice-president.
Classified documents
The Sunday Times reports that nine Nimrod military aircraft - cancelled in a storm of controversy - had a critical safety fault.
It claims classified documents show the planes had the same flaw which was blamed for an explosion on board an RAF Nimrod in 2006, killing 14 people.
Yet according to the Sunday Express, three of the new aircraft were complete and met operational specifications.
It says Defence Secretary Liam Fox could be called before MPs to explain the decision to scrap them.
Work-life balance
Labour leader Ed Miliband uses an article in the Sunday Times to attack plans to sell off English woodlands.
He says ancient trees are centuries in the making but only seconds in the felling - and should be beyond privatisation.
The Sunday Telegraph says Deputy Prime Minister Nick Clegg has hit on a way to improve his work-life balance.
The paper claims his office has told other Whitehall departments not to put routine reports and memos into his ministerial red box after 1500 GMT.