Newspaper review: Egypt unrest leads the front pages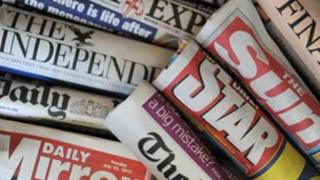 The anti-government protests in Egypt are the lead for many of the papers.
"Egypt on the brink as tanks roll into Cairo", says the Guardian, which speaks of an outburst of anger and energy.
There was no hiding the ferocity of the clashes and the shutdown of mobile and internet services only propelled more people on to the streets, it adds.
The Independent's front page is filled with pictures of the demonstrations and violence. A brutal regime is fighting, bloodily, for its life, the paper says.
Revolution?
The Times asks if the game is over for President Hosni Mubarak and it says his 30-year rule appears closer to collapse with the passing of every hour.
Robert Fisk in the Independent declares: "It might be the end; it's certainly the beginning of the end."
Commentators compare the events with the 1989 revolutions in Eastern Europe.
But there is a warning in the Daily Telegraph that this is not the Berlin Wall and what is waiting on the other side is not West Germany.
'Wet' justice
The Daily Mail says NHS figures show girls under 15 are now drinking virtually as much as boys.
According to the paper, a surge in consumption of spirits is blamed for creating a generation of binge-drinking schoolgirl "ladettes".
The Daily Express leads with a judge's remarks that British justice is "wet" because sentencing guidelines meant he could not send a burglar to jail.
Judge Julian Lambert told the man: "We live in soft times now".
Murray mania
The Daily Telegraph warns shoppers are about to be squeezed by a steep rise in the cost of fruit juice.
It says a series of bad harvests, combined with increased demand from countries such as China and India, has forced up prices on the world market.
Finally, it is the "moment of truth" for the Guardian and the other papers.
The Independent declares it is time for Andy Murray to seize the moment at the Australian Open and end Britain's 75 years of hurt in men's tennis.