UK-Egypt plane diverted to Greece after 'bomb' alert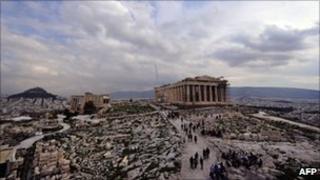 A plane travelling from the UK to Egypt was diverted to Greece after a note containing the word "bomb" was apparently found on board.
The EgyptAir jet, which had departed from London's Heathrow Airport, was carrying 251 passengers when it landed at Athens International Airport.
The UK Foreign Office said 50 Britons were on the Cairo flight and they were staying in hotels in Athens overnight.
Britons have been warned to avoid Cairo during the current civil strife.
The EgyptAir pilot made a request to land and the plane touched down in Athens at 2039 local time (1839 GMT) on Friday.
An Athens International Airport spokeswoman said: "Everybody is safe and the aircraft landed safely."
She said she understood a piece of paper containing the word "bomb" had been found on the plane, causing the unscheduled landing.
Police were checking the plane for explosives but it is not known if anything was found.
The Foreign Office said consular staff in Athens had made the British passengers aware of the latest advice.
On Friday, the Foreign Office upgraded its advice to caution against "all but essential" travel to Cairo, Giza, Alexandria, Luxor and Suez.
It followed the biggest demonstration since protests began on Tuesday, with tens of thousands of Egyptians taking to the streets across the country.
President Hosni Mubarak ordered a night-time curfew in the main cities, and later addressed the nation saying he had dismissed the government and will appoint a new cabinet on Saturday.