7/7 inquests: Senior paramedic 'unaware of deaths'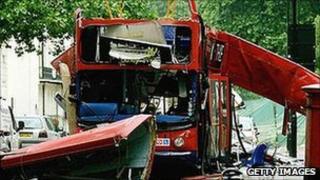 A senior paramedic was unaware of any deaths until 30 minutes after arriving at the suicide bus bombing in Tavistock Square, the 7/7 inquests have heard.
Ambulance operations manager Terence Williamson told the hearings his radio did not work and communications with central control were very poor.
He said he did not know casualties had been taken to the courtyard of the nearby British Medical Association.
Thirteen victims were killed in the bus bombing in London on 7 July 2005.
Four suicide bombers targeted three Tube trains - at Aldgate, Edgware Road and Russell Square - as well as the number 30 bus, killing a total of 52 passengers.
Mr Williamson told the inquests he was sent to Tavistock Square only after reports of a second blast there, which turned out to be the controlled explosion of a suspicious package at 1040.
He said he did not know there had earlier been a bomb on the Tube between King's Cross and Russell Square, despite attending a high-ranking Gold Command meeting of the emergency services.
"All I was aware of, there were multiple explosions but not any locations," he told the hearings at London's Royal Courts of Justice.
Cordoned area
Describing the situation when he arrived, he said it was "initially a very quiet scene with very few people around".
Mr Williamson said he stopped at a cordon on one side of the bus when told to by a police officer, and said he said he could not see any casualties behind the vehicle.
Under questioning from Caoilfhionn Gallagher, representing some of the victims' families, Mr Williamson said: "I personally didn't try to enter the cordon area."
Andrew O'Connor, junior counsel to the inquest, told the hearings that it was "not an accurate explanation" to say ambulances were delayed in getting to Tavistock Square because of traffic.
Paul Gibson, who was London Ambulance Service's "Silver Commander" at the scene, said: "There were so many incidents going on, some vehicles were deployed to different incidents."
Mr O'Connor said: "It appears to have taken 52 minutes to deploy to the Tavistock Square bomb," describing the delay as a "very serious failing that day".
Mr Gibson replied: "I can't explain exactly what happened in the control room. I wasn't in the control room."
Lack of resources
GP Dr Peter Holden, from Matlock, Derbyshire, who was working at the BMA headquarters when the attack happened, told the inquests: "Essentially, we heard a loud bang.
"I do remember everything going salmon pink at just about the same time and, in the main office, some of the staff beginning to make a lot of commotion, and came out of the office and could see the white smoke and the tree canopy gone."
Dr Holden referred to 50-year-old cleaner Gladys Wundowa, from Ilford, Essex, who was one of those who died.
The doctor said: "It was in my mind that this patient was so severely injured, under the circumstances with the assets we had available, that survival was highly unlikely and, even if she had been the only victim and we'd had all the resources of the metropolis at hand, survival was still unlikely."
Asked about the lack of medical equipment, he said: "This was not an ideal world. It was force majeure.
"Maybe I'm hard - you have to be to do this kind of work. I'm afraid, when you get an incident of this variety, there will be casualties.
"You have to take the view, if you're going to get the best result that you can, of 'do the most for the most'. And that really does mean prioritisation of what you do."