Echo of Egyptian anger in anti-Mubarak rally in London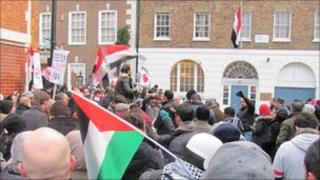 Tens of thousands of Egyptians calling for the removal of President Hosni Mubarak have clashed with police on the streets of Cairo, Alexandria and Suez. Around 30 Egyptians took part in a peaceful demonstration outside the country's embassy in London.
The bitterly cold streets of the capital may be a long way from the souks of Cairo but the frustration and anger echoed the passions which have come to the surface in Egypt in recent days.
Protesters waved placards which berated the 82-year-old president and bellowed slogans like "The people want Mubarak out", "Revolution, revolution until victory" and "Mubarak has killed his people and is a traitor from head to toe".
Ali Amir, a student who helped organise Friday's protest, said: "We want change and democracy. We have been asking for it for 30 years.
"Eighty million people in Egypt had lost hope but when the Tunisian people stood up and kicked out their president that gave us hope.
"I was one of the first to join the Facebook page calling for protests [on 25 January] but now there are over a million members."
Abdullah Ali, a 26-year-old who works in public relations in London, had come to the demonstration in response to messages on Facebook.
He said: "We have come here to stand shoulder to shoulder with our brothers and sisters in Egypt. Enough is enough.
"We want the regime out. We want the whole lot out - Mubarak, the prime minister and all those in the regime. We want elections free from rigging."
Amr El-Bayoumi, a lawyer, flew from Cairo to London on Thursday, and said he had witnessed some of the demonstrations first-hand.
He said: "Men, women, children, old and young are expressing their frustration and outrage.
"They have been denied their dignity and it's a system which requires an uprising. It's a spontaneous uprising at the rampant corruption at every level."
Mr El-Bayoumi said: "Egyptians of all religions are striving for democracy. These are the early days.
"Egyptians are not a passive people. They are (a) loving people but if you push them you have what you see today. They have been patient, but no more. Enough is enough."
But Mr El-Bayoumi questioned the credibility as a genuine alternative of Mohammed ElBaradei, the Nobel Peace Prize-winning former head of the UN's nuclear watchdog, who has returned to Egypt and called on President Mubarak to go.
Mr El-Bayoumi said Egyptians were fed up with their government doing whatever the United States told them to and wanted a return to the ethos of Gamal Abdel Nasser, who preached self-determination and anti-imperialism.
El-Khiam Dora, a 27-year-old student, said: "Everyone in Egypt wants democracy and freedom."
He said: "They [the government] go on about reforms but it's all a hoax. We want what the rest of the world has. Thirty years is more than enough."
Mr Dora said he had been unable to get through to his family in Egypt because the phone lines and internet were down.
"Is that a democratic country, one that cuts phone lines and the internet? That is a crime in itself," he said.
He claimed last year's parliamentary elections in Egypt - which the ruling National Democratic Party won with 95% of the vote according to official figures - were rigged.
Watching the protest, and sympathising, was journalist Yvonne Ridley, who converted to Islam after being captured by the Taliban in Afghanistan in 2001.
Ms Ridley, European president of the International Muslim Women's Union, visited Egypt last year and she said she recognised some of the "plain clothes thugs" she had seen on television beating up demonstrators.
She said: "What the Egyptian people are doing is so courageous because what they are facing, as we can see on our screens, is this terrible machine which seeks to instil fear and brutalises the people."
Ms Ridley criticised former prime minister Tony Blair's remarks on Friday in which he supported Mr Mubarak and warned of Islamists "filling the vacuum" if he was removed.
She said: "It's the irrational fear of Islam which all the despots in the Middle East play on. The Muslim Brotherhood is liked and admired in Egypt but they would not be swept into power, just like in Tunisia."