Papers anticipate hacking probe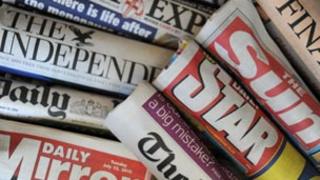 The reopening of the police inquiry into phone hacking at the News of the World features on many front pages.
"The next turn of the screw", is the Independent's headline, with the News of the World finally having abandoned its "rogue reporter" claim.
Police will look at whether evidence was missed in the original investigation, suggests the Guardian.
The Daily Telegraph says officers are braced for an investigation lasting up to two years and costing millions.
Pundits not archbishops
The headline writers faced something of an open goal with the resignation of Sky Sports presenter Richard Keys.
"Lost Keys," declares Daily Mirror, while the Sun has "Keys to the door".
Keys and Andy Gray, who was earlier sacked over sexist comments, "will not be lamented for long", suggests Oliver Kay in the Independent.
The Daily Mail's Stephen Glover worries "this intolerant nation now expects football pundits to behave like the Archbishop of Canterbury".
Terror overhaul
"A case of two steps forward, one step back," is the Independent's view of the overhaul of anti-terror measures.
The Daily Telegraph is more impressed by the government's "sensible balance of liberty and security".
The Financial Times leads on the UK's biggest banks hitting back after calls that they should be broken up.
They have set out what the paper calls "their strongest arguments yet for keeping retail and investment banking operations under one roof".
'Misanthropic recluse'
BBC World Service, facing savage cuts because of reduced government funding, gets some unlikely defenders.
The Daily Mail says this "clear force for public good... burns a torch for democracy" and is "trusted all over the globe".
The discovery of letters by US author JD Salinger counter his reputation as a misanthropic recluse, says the Times.
Among other things, they reveal a desire the writer had to see Tim Henman win Wimbledon.