7/7 inquests: Paramedic's 'concern' at ambulance wait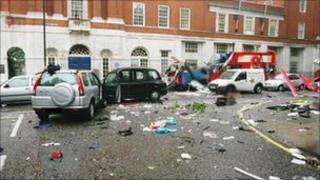 The first paramedic to attend the 7 July bus bombing has told the inquests she was "concerned" that it took nearly an hour for more ambulances to arrive.
But Jessica Ashford said she was "very surprised" to learn later about the delay, adding: "In my mind it might have only been 10 minutes."
She said the situation had been "very confusing" and her sense of time passing was "very blurry".
Thirteen people died when a number 30 bus was blown up in Tavistock Square.
Hasib Hussain was the last of the four suicide bombers to detonate his device on 7 July 2005 - in total, 52 people were killed and hundreds injured.
In December, another paramedic, Rachel Harris, told the inquests that her crew and three others watched the aftermath of the bombings on television for over an hour before being sent to help.
Ms Harris, who was based in Camden, north London, said: "We cover King's Cross, West End and Paddington regularly... why were we forgotten?"
Huge pressure
Mrs Ashford had been dispatched to the Russell Square bombing, but on the way she came across the wrecked bus in Tavistock Square.
She told the inquests the scene was "devastating" and described seeing body parts lying on the ground.
She and colleague Nadene Conway phoned their control room to report it at 0957 BST, and then after a quick reconnaissance, phoned again at 1005 BST to ask for back-up.
The court heard that another paramedic crew also "stumbled across" the scene at 1027 BST, but because of the huge pressure on the emergency services caused by the earlier Tube bombings, more ambulances were only formally dispatched at 1042 BST.
They arrived on the scene about 10 minutes after that.
Asked if she had been anxious during that wait, Mrs Ashford said: "Yes, I was concerned.
"It was a very confusing time.
"I was very surprised when after the incident someone told me they were the times the ambulances came to help, because in my mind it might have only been 10 minutes.
"Time was very blurry."
Mrs Ashford said she had very little contact with her control room after her initial calls because police ushered her inside the nearby British Medical Association building - for fear of a second bomb - and her only radio was inside her ambulance.
'Doing their best'
Concern about a lack of ambulances was also expressed in November by a paramedic called to the Edgware Road attack.
Graeme Baker told the inquests he understood that multiple blasts made the situation "very difficult", but said it was "frustrating" to hear later that "other stations just didn't attend or weren't doing anything".
But on Tuesday, the inquests heard evidence from Dr Ben Teasdale, a registrar at the nearby Royal London Hospital, who rushed to Tavistock Square by car to help the victims.
Asked whether he was concerned about the time it took for ambulances to arrive, he said: "I don't remember that as a conscious thought.
"I think, given everything that went on that day, I think everybody was doing the very best they could under difficult circumstances, and clearly everybody was stretched, traffic was bad, communications weren't great.
"I think everybody was doing the very best they could."
On Wednesday, details of the post-mortem examination performed on 18-year-old Hussain were read to the court.
The inquests heard that the extent of the bomber's injuries suggested he had been holding his device in front of him, or was leaning over it, when it detonated.
Among his possessions were a driving licence, a sports bar access card and a document from West Yorkshire Police relating to a caution he had been given for shoplifting in 2004.
The inquests are due to last until March.